Optimove Acquires Advanced Mobile Marketing Platform Kumulos. Here's What's In It for You
With the addition of native sophisticated mobile marketing channels into the platform, Optimove is now the only solution combining a smart, actionable CDP, AI-based orchestration and optimization mechanisms, and all the execution channels a brand needs to deliver hyper-personalized customer experience at every touchpoint. Pretty exciting, huh?
If you've read our official press release from today (March 29th, 2022), you know that "Optimove, the leading CRM Marketing Platform, today announced its acquisition of Kumulos, a Dundee, Scotland-based provider of a personalized messaging platform for mobile applications."
Which is 100% true. But this here is not the official press release – it's our blog, where we can be a little less formal. So, let us rephrase our own words: Optimove (that's us!), a serial award-winning CRM Marketing Platform, is as excited as can be to announce the acquisition of Kumulos, a brilliant company with a brilliant product that allows the sophisticated personalization of all kinds of mobile messaging.
On the official PR we say how "the acquisition furthers Optimove's efforts to expand the native messaging capabilities of its Customer Relationship Management (CRM) Marketing platform, which empowers brands to connect with existing customers and deliver personalized multichannel journeys, at scale."
Again, this is perfectly accurate. But what does it mean for you?
Well, it basically means our clients can now not only unify their Customer Data in a fast, secure, sophisticated, and actionable Customer Data Platform, and scale their customer marketing personalization from tens to hundreds of customer segments, but also now they can execute all their mobile marketing campaigns natively through Optimove.
That means they get our bespoke customer models, predictive analytics, AI multichannel decisioning and optimization, AND native mobile push, in-app messaging, mobile inbox, web push, geo-fencing, and deferred deep linking.
Together with our highly rated native email marketing solution, brands can now log into Optimove in the morning, essentially do everything Retention-related without leaving the platform, log out at End of Play, and go about their evenings happy and confident that all their CRM Marketing data, campaigns, orchestration, and optimizations, are taken care of by a well-rounded, AI-based next-gen solution.
Let's get even more specific, shall we? With this acquisition, Optimove clients can now:
Re-engage customers with mobile push notifications that support rich media, templates, and deep linking, which are delivered based on each customer's usage history.
Create customized in-app messages with on-brand overlays and inbox messages for onboarding experiences, customer-based messaging, and rich in-app communications that provide the ultimate personalized experience to every customer.
Maximize opt-ins and conversions with fully customizable permission overlays and soft prompts as well as personalized rich media web push messages that dynamically adapt to each customer's on-site behavior.
Trigger higher-accuracy automated messages leveraging geofences and beacon technology combined with realtime behavior, customer attributes, and preferences.
Acquire new mobile app users from websites, emails, social media, digital advertising, out-of-home advertising, and more with award-winning deferred deep linking powered by universal smart links and web-to-app banners that intelligently navigate each customer to a unique destination.
The acquisition – the third in Optimove's history following 2018 acquisition of DynamicMail and 2020's acquisition of Axonite – comes about six months since the company announced a $75M funding from Summit Partners. An announcement that was clear about our intentions, saying "Summit Partners' investment will fuel Optimove's M&A strategy."
Next Gen, Next Step
The Kumulos acquisition closed in March 2022 and we plan to continue our product enhancement through additional value-add technology acquisitions this year.
This acquisition is the latest milestone in Optimove's journey to the top of the Multi-Channel Marketing Hub space.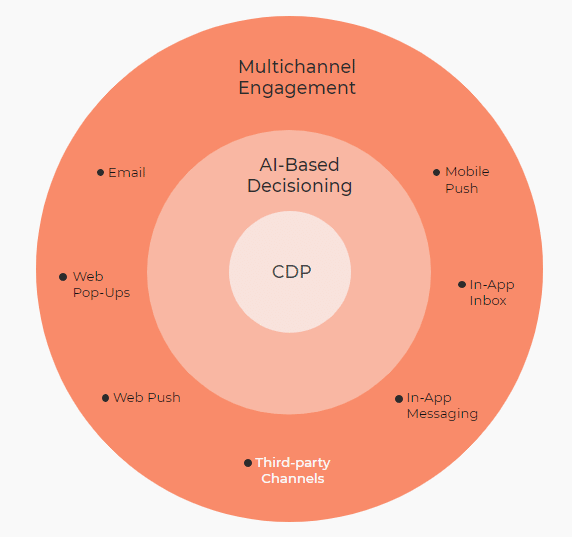 A journey which involves evolving from a smart CDP to an actionable one, now completed with all multichannel engagement capabilities needed to strategize and execute a revenue-boosting CRM Marketing strategy.
With a Customer Data Platform (CDP) at the core, Optimove offers marketing teams direct access to their customer data to build, test, and optimize hundreds of CRM campaigns weekly. The Kumulos acquisition bolsters our AI engine, adding native mobile capabilities to allow brands to seamlessly orchestrate multichannel marketing journeys across web, email, and mobile channel.
Today, Optimove's CRM Marketing platform sends more than 81 billion optimized messages every year, helping brands grow their customer lifetime value by more than 33 percent. The company serves more than 500 brands – including Dollar Shave Club, Entain, BetMGM, Staples, JD Sports, Papa John's, Pennsylvania Lottery, Family Dollar, and others across sports, gaming, retail, telecommunications, and financial services. Kumulos' customer base deepens Optimove's penetration in retail and finance. It extends its reach into other key verticals such as quick-service restaurants (Subway, Pizza Pizza), logistics (CargoLux, UPS), travel and hospitality (Sandals and Beaches, Network Rail), and healthcare (Sanofi, Roche, Ellerca Health).
Psst… Kumulos is now part of the Optimove brand, but if you're an existing Kumulos client, you can still access all of your important links here: