What are Smart App Banners?
Smart app banners appear as a banner at the top of a user's mobile browser giving the user the option to download or open the app. The banner includes a smart link that routes to automatically open the app if the user has the app installed or to the app store page if the customer does not have the app installed.
Because smart app banners are on the top of the screen, they do not disrupt the user experience by taking over the whole screen. The banners encourage web visitors to open or install the app, converting mobile web visitors into app users. Smart app banners facilitate a web-to-app flow between a brand's website and its app.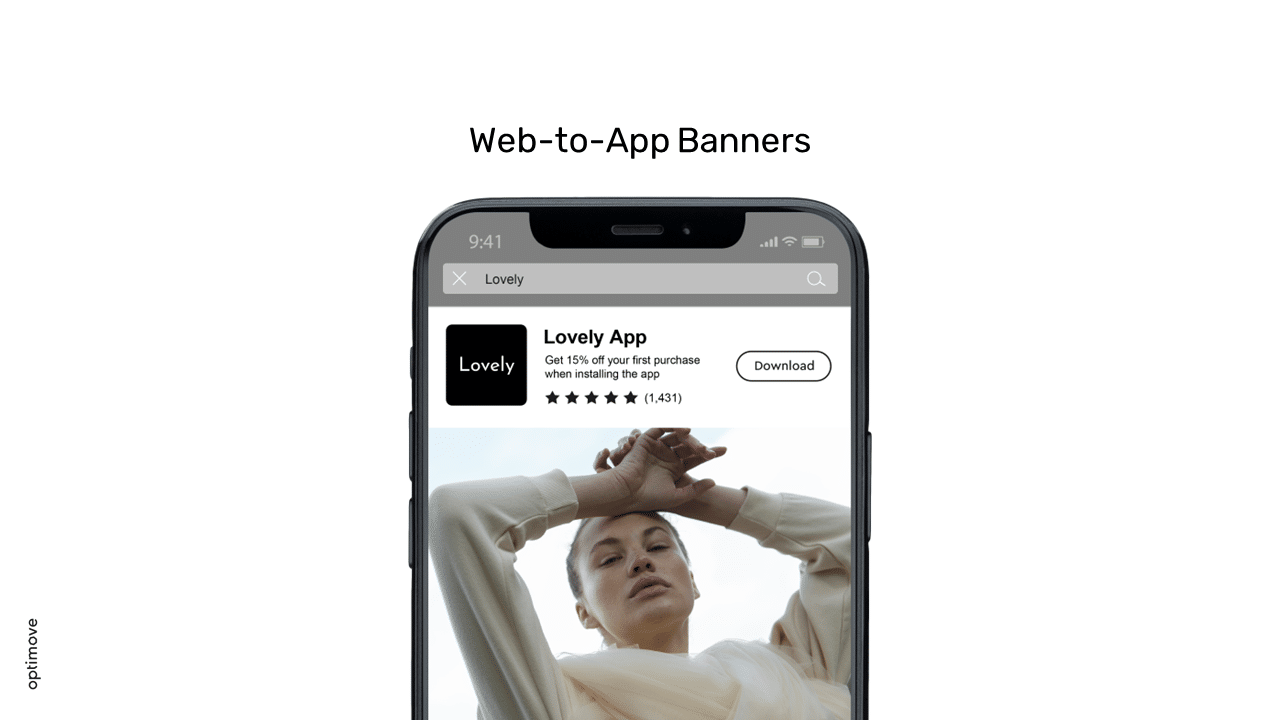 How are Smart App Banners Used for Promotion?
Many customers begin their customer journey on websites. Websites are a simple way for customers to learn about a brand and its products before deciding to buy anything. Smart app banners promote the brand's app and bring more traffic to the app. When customers visit a brand's website to learn about the brand, smart app banners connect customers to the app, so they can continue their journey by making a purchase or completing another action.
Customers that use a brand's app are more loyal and have higher average lifetime values than those who don't. Additionally, native apps can drive 3x more sales than mobile web making a user on a mobile app far more valuable to business than a website user. As such, brands need to convert web visitors to app users. Smart app banners encourage web visitors to download the app, increasing the likelihood of the customer completing a transaction.

How to maximize Smart App Banners
Smart App Banners are a powerful acquisition and retention tool for marketers when used correctly. Below are three strategies that will maximize the impact of web-to-app banners:
Brand alignment – Customize Smart App Banners' prompt to match your brand with your logo, app store ratings, and personalized buttons.
Contextualize prompts – Trigger the banners based on user web behavior at the precise moment it is most likely to convert to acquire new, highly engaged app users.
Personalize offers – Create a personal link that is relevant to each user to encourage them to use your app. Pre-populate incentives such as 20% discounts or buy one get one free offers that are automatically added once the user launches the app.
Frequently Asked Questions
What is the purpose of mobile marketing?
The purpose of mobile marketing is to:
Reach specific audiences: Mobile marketing allows you to reach more specific customer segments in comparison to traditional marketing which only reaches a general audience
Engage your audience: Mobile marketing provides opportunities to interact with customers in real-time and on a more personal level. Moreover, customers cannot directly respond to traditional marketing because it is a one-way message. However, customers can interact with mobile marketing content through mobile apps, SMS (text message) marketing, and mobile websites.
Maintain strong customer relationships: Mobile marketing, if done right, will improve customer retention rates, and increase long-term loyalty
Why is mobile marketing so successful?
Mobile marketing is very successful for a myriad of reasons:
Availability: Everyone is on their phones 24/7, therefore…
Accessability: Businesses can reach their desired audience from anywhere, at any given time
Location-based targeting: Businesses can deliver highly relevant and personalized promotions using GPS tracking
Social media integration: Utilizing social media to generate engaging advertisements will drive brand awareness
Multiple channels: Users can receive content from websites, apps, text, social media, and more

Optimove's Smart App Banners
Optimove's technology allows brands to use Web-to-App banners to drive more customers to the brand's app. The technology increases the number of users who download your app and the number of transactions users make inside your app.
Contact us today or request a web demo to learn how you can use smart app banners to increase the number of customers who convert from website visitors to app users.
Get a Personalized Tour of Optimove
Let us show you how to go from tens to hundreds of segments