What is Mobile Marketing?
Mobile marketing is any marketing campaign that promotes products or services through mobile devices. By connecting with customers through mobile devices, you can create a cohesive customer experience. Most people always have their phones with them, allowing you to connect with customers in real time. Mobile marketing is used to attract customers in an interactive and personalized way.
Types of Mobile Marketing
Mobile marketing works by connecting with customers through their mobile devices encouraging them to interact with your brand. Here are some types of mobile marketing:
In-App Marketing
In-app marketing is marketing through mobile apps. In-app marketing can be either for your own brand or for other brands. For your own brand, In-App marketing refers to the use of banners, overlays, and inbox messaging to market your products to your app users. You can engage customers who are active users of your brand's app and guide their user experience in your app. For other brands, ads can be included on popular apps or your brand's app. The ads can be banners, a full page, or videos. In-app marketing also allows you to increase your customer base through advertisements on popular apps.
Mobile Push Marketing
Mobile push marketing sends marketing messages on mobile devices using push technology. It allows you to deliver relevant information to users even if they are not on your website or app. Mobile push notifications allow you to communicate with existing and potential customers in a simple and effective way.
SMS Marketing
SMS marketing is a marketing campaign via text message. You can send promotions, alerts, offers, and more to current and potential customers' phones. Text marketing campaigns can be successful because most people have their phones with them, and it is difficult to ignore push notifications.
Social Media Marketing
Social media platforms typically have billions of users, making social media a great place to advertise and promote your business. Social media marketing allows you to make a more personal connection with consumers through Facebook ads, promoted tweets, or shoppable pins on Pinterest.
Location-Based Marketing
Location-based marketing allows you to target a customer on their mobile device based on their location. You can create specific marketing campaigns based on your customers' location, making the marketing campaign more relevant.
QR Code Marketing
QR code marketing allows you to create a link to your website, download your app, review your business, or signup for your newsletter. Customers can scan the QR code with the camera on their smartphones and it is simple to use. QR code marketing allows you to engage more customers and can be used for almost any marketing purpose.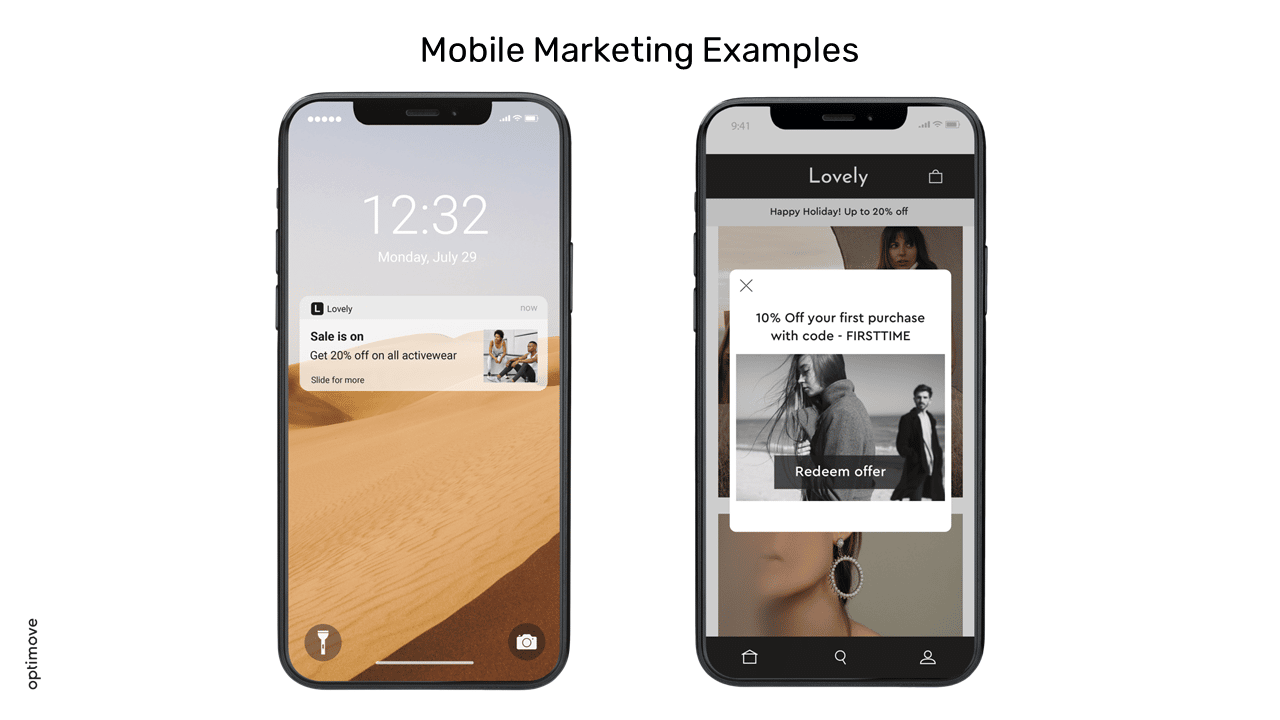 Mobile Marketing vs. Traditional Marketing

Mobile marketing engages customers through their mobile devices, traditional marketing is any marketing that is not online. Traditional marketing can include newspaper, television, radio, and billboard ads. Typically, traditional marketing is one-way communication, whereas, with mobile marketing, customers can interact with your business through mobile advertisements. Here are some examples of the main differences between mobile and traditional marketing:
Reach Audiences – traditional marketing reaches a more general audience; mobile marketing allows you to reach specific customer segments.
Engage Audiences – customers cannot directly respond to traditional marketing because it is a one-way message; customers can interact with mobile marketing content.
Time – when you stop running a traditional ad it is over, making it a good short-term strategy; mobile marketing exists forever online, making it a more long-term strategy.
Measurability – it is more difficult to measure the success of traditional marketing campaigns; mobile marketing campaigns are easier to measure because they target specific audiences.
The Guide to Mobile Marketing
Perfect your retention-focused mobile marketing with this 101 guide.
Advantages and Disadvantages of Mobile Marketing
Mobile marketing allows you to reach highly targeted customer segments and engage with them through relevant marketing campaigns. Advantages of mobile marketing include:
Accessible and Immediate – you can reach an audience from anywhere at any time, the fastest way to communicate with customers
Global Audience – people have mobile phones across the world, so you can reach who you choose
Multiple Channels – provides flexibility and opportunity to reach customers through websites, apps, text, social media, and more
Personalization – mobile devices are an extension of the user, so any information customers receive from their mobile devices will seem much more personal to the customer
Viral Potential – content is easily shared creating free exposure and the potential for your content to be shared everywhere
Mobile marketing also has some disadvantages including:
Little Room for Error – hard to fix any mistakes before they are seen by customers, potential for a negative first Potential for
Bad User Experiences – bad ads can also go viral, which can be detrimental to your business
Navigation Issues – different devices have different screen sizes making it difficult to standardize an image, some people may not want to or be able to go to your ad with their type of device
Privacy and Permission – people are concerned about privacy on their mobile devices, so consider how customers protect themselves online and offer ways to opt out of communications
Constant Updates – technology is continually updated, so you will constantly have to educate your team on how to use the latest updates and ensure your customers also know how to access your ad with new updates
Frequently Asked Questions
What is the purpose of mobile marketing?
The purpose of mobile marketing is to:
Reach specific audiences: Mobile marketing allows you to reach more specific customer segments in comparison to traditional marketing which only reaches a general audience
Engage your audience: Mobile marketing provides opportunities to interact with customers in real-time and on a more personal level. Moreover, customers cannot directly respond to traditional marketing because it is a one-way message. However, customers can interact with mobile marketing content through mobile apps, SMS (text message) marketing, and mobile websites.
Maintain strong customer relationships: Mobile marketing, if done right, will improve customer retention rates, and increase long-term loyalty
Why is mobile marketing so successful?
Mobile marketing is very successful for a myriad of reasons:
Availability: Everyone is on their phones 24/7, therefore…
Accessability: Businesses can reach their desired audience from anywhere, at any given time
Location-based targeting: Businesses can deliver highly relevant and personalized promotions using GPS tracking
Social media integration: Utilizing social media to generate engaging advertisements will drive brand awareness
Multiple channels: Users can receive content from websites, apps, text, social media, and more

How Optimove's Mobile Marketing Platform Can Help Grow Your Business
Optimove has native mobile marketing channels that include all the channels a marketer needs to deliver a personalized customer experience. Brands can create mobile push notifications, customize in-app messages, create web push messages, leverage geofences and beacon technology, and use deferred deep linking to targeted market segments. With Optimove, customers can consolidate marketing efforts to plan, execute, and measure marketing campaigns in one place.
Contact us today or request a Web demo to learn how you can use Optimove to execute personalized mobile marketing campaigns and grow your business.
Get a Personalized Tour of Optimove
Let us show you how to go from tens to hundreds of segments