QR Code Marketing for Mobile First Brands 
For a long time, no one believed QR codes had a future (yes, you too!) but technology and consumers have changed, and along with them, the humble QR code's popularity.
Need a bit of convincing? QR code scans quadrupled in 2022; 72% of us scan a QR code at least once a month (MobileIron), and recent predictions tell us that 99.5 million people in the US will be using QR codes by 2025 – not bad for a technology that's had more than its fair share of naysayers!
Today, most marketers have at least considered QR code marketing as part of their campaign arsenal. As a result, most of us are no strangers to scanning QR codes to pay for goods at the till, grab in-store discounts, reap loyalty rewards, and see what's on the menu (52% of the one million+ restaurants in the United States use QR code menus).
Long and short? If you're a mobile-first brand, QR code marketing will go a long way to increasing engagement, cultivating loyalty, and driving growth … let's explore.
The benefits of QR Codes in marketing
QR codes are instantly accessible, offer immediate gratification, and quickly engage users in a way that other channels simply can't – in short, they're pretty unique! But that's not all; their versatility opens up a world of possibilities for brands looking to engage their audience in innovative and immersive ways:
They offer an enhanced mobile experience: QR codes provide a seamless transition from offline to online experiences, allowing users to quickly access relevant content without the need to manually type URLs or search for specific information. The result? A frictionless user experience.
They drive engagement: By scanning a QR code, and using deferred deep links, you can lead your audience wherever you want them to go – special offers, competition entries, product information, videos … and just about any other type of campaign content you can think of.
They're highly effective for targeted marketing campaigns: QR codes can be placed on your various marketing materials, such as print ads, product packaging, posters, brochures, or business cards so you can tailor campaigns to specific target audiences and locations – in-store posters for promotions for shoppers, product packaging for competitions … you get the idea.
They're great for tracking and analytics: QR codes can be easily tracked and monitored as you can measure metrics such as scan rates, geographic distribution, and user engagement and make data-driven decisions for future campaigns.
And they're highly cost-effective: QR codes are relatively inexpensive to create and implement, making them an attractive option for mobile-first brands working with ever-tightening resources.
How to use QR Codes across your marketing channels
Suitably inspired? Good! The following examples illustrate how QR codes can be used creatively and strategically in marketing campaigns to enhance customer engagement, drive conversions, and create memorable experiences that drive lasting loyalty …
In-Store Displays: Elevate the in-store shopping experience with QR codes strategically placed on displays. Customers can scan these QR codes to instantly access additional product details, discounts, or exclusive loyalty rewards. For instance, Macy's revolutionized their retail game by incorporating QR codes on in-store displays. Customers who scanned the codes received discount coupons, incentivizing purchases and fostering repeat visits. Nike incorporated QR codes nearby sneaker displays and invited customers to scan the code and enter their shoe size – the sneakers would then be brought out for the customer to try on. Pretty smart!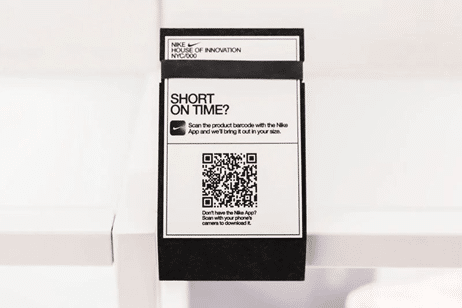 OOH Advertising: Capture attention with QR codes on bus stop ads, offering a gateway to interactive experiences. British Airways incorporated QR codes on their bus stop ads in London, enticing commuters to scan and immerse themselves in a virtual travel experience. Passersby were directed to a mobile website that showcased destination videos, flight offers, and holiday packages, creating an engaging and immersive brand interaction during their daily commute.
Print Ads and Brochures: Enhance customer engagement by integrating QR codes into print advertisements and brochures. When scanned, QR codes can direct customers to product pages, promotional offers, or video demonstrations. For instance, during their latest campaign, Nike (yep, they're on it!) cleverly used QR codes in their print ads, inviting customers to scan and access personalized landing pages. These pages showcased the latest shoe collections and offered a unique sneaker customization experience, creating an interactive and memorable journey for their audience.
Digital Signage: Display QR codes on digital screens, granting access to surveys, customer feedback forms, or compelling content. For instance, Audi revolutionized their showrooms with QR codes on digital screens. Prospective customers scanned the codes to instantly request test drives, receive brochures, or contact a sales representative, streamlining the car-buying process and enhancing customer engagement.

Packaging and Labels: Transform your product packaging and labels with QR codes, granting customers instant access to valuable information. Incorporate QR codes on packaging for tutorials, customer reviews, or that old favorite, discount coupons. Coca-Cola set a prime example back in 2012 when consumers were relatively new to QR scanning. During their "Share a Coke" campaign, they integrated QR codes on their product labels. Scanning the codes unlocked an augmented reality experience, engaging customers with interactive games and exclusive content, fostering a memorable and engaging brand experience.
Direct Mail Campaigns: Supercharge your direct mail campaigns by incorporating QR codes in mail materials to drive traffic to landing pages, contests, or exclusive offers. Domino's Pizza enhanced its direct mailers by including QR codes. Recipients could simply scan the code for one-click access to their mobile app, streamlining the online ordering process and delivering a seamless customer experience, boosting conversions and sales.
Social Media Engagement: Share QR codes across your social platforms to grant quick, easy access to contests, promotions, and captivating content. An impressive real-life example is Red Bull's strategic use of QR codes across their social platforms. Followers scan QR codes to unlock behind-the-scenes content and gain entry to exclusive live stream events – with the brand able to glean valuable insights into engagement and helping them fine-tune future campaigns.
Event Marketing: Elevate event experiences with QR codes on materials like banners or tickets so attendees can easily access event schedules, maps, and exclusive content. A great example is Coachella Music Festival, which incorporates QR codes across its event promotional materials. Scanning the codes grants festival-goers access to exclusive artist interviews, detailed schedules, and interactive festival maps, enriching their experience and creating lasting memories.
Today's shoppers are no longer confined to traditional brick-and-mortar stores; they've become hybrid consumers, seamlessly transitioning between physical and digital shopping experiences. In this landscape, consistency across all channels is key to engaging customers effectively; QR codes are the versatile bridge that enables brands and marketers to seamlessly connect these physical and digital worlds. To find out how Optimove can help with your multichannel marketing efforts, let's talk!