eComm: Using Data to Push Customers to the Second Purchase
The second purchase is a key milestone in the customer journey. These data insights can help you optimize your business towards more returning customers
Customers who have made only one purchase with your business – also known as "one timers" – make up a significant chunk of your customer database. As an industry benchmark, 63% of the people who have bought from you will not be coming back. These 63% of customers represent a significant pain-point for your retention efforts: you've managed to convert and acquire them, but have failed to turn them into active, loyal users. Their potential future value can dramatically increase your acquisition ROI.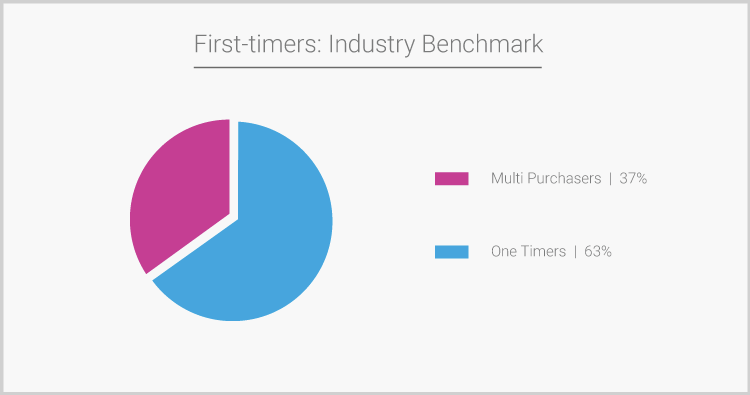 We've parsed the data of millions of one-timer transactions to give you a better idea of first-timer behavior patterns, that can help you push these converted customers into their second purchase.
Basket Variety
One area which influences the probability of a second purchase is basket variety. Variety implies a large number of items. We've written before about the increased propensity to make a second purchase based on the number of items in the first purchase. But here, we'd like to emphasize not only the number of items, but also their variety. According to our data, a varied basket – with items from multiple departments – doubles the chance a customer will make a second purchase. This data can be translated into action by pushing customers to increase their basket variety on their first purchase. Your goal should be to cross-sell to another department, for example through an offer of Buy X get one free – but make sure that the next item is from another department.
Discount
In order to convert your customers into making their first purchase, you may have offered them a discount. The whole world loves a discount, but when viewing discounts through the prism of a second purchase it becomes clear that not all discounts are born equal, and that their dynamic is counter-intuitive.
When a customer has made a first purchase on discounted items, her likelihood of making a second purchase rises up to the 20% discount mark. Within the brackets of a 5%-30% discount, customers are "charmed" with the brand and are more likely to return. When a first purchase is instigated through a 30% discount or higher, the probability of attracting "cherry pickers" grows: these are customers who are looking for a great deal, but form no lasting relationship with the brand. The probability that these "one and done" buyers will return for another purchase dramatically drops. Taking this variable into account when converting prospects into their first purchase, and adjusting your offers accordingly, can have a lasting impact on the number of your returning customers.
Returns
We tend to think about returned items as a bad thing. It seems that we should absolutely prefer our customers to keep all their items, signaling that they are happy with their purchase. But the data tells a different story. Purchase data from new customers – as well as active customers – shows that on the whole returns predict a higher customer lifetime value. Customers with a low to medium return-to-purchase ratio (who return 20%-50% of their purchases) often have a higher value for the brand compared to customers who have not returned any of their purchases (or who have returned everything they bought).
There is a rational behind this peculiar customer behavior. Returns are a staple of online shopping. It is part and parcel of the digital shopping experience, and many savvy online shoppers embrace it as part of the buying process. Looking for a bathing-suit? Not sure about the design – try more than one and keep your favorite. Not sure about the size? Do the same. Some leading brands, such as StitchFix, have actually baked this dynamic into their sales methodology.
And when this dynamic occurs, it tends to amplify itself. If your returns policy is all about giving your customer a great experience, they will have had more chances to interact with you and create positive experiences.
The take-away for brands is that providing a full-blown return strategy is essential. Optimally you will want to offer your customers free returns, provide the infrastructure for a fluent returns operation and compliment it with effective customer service.
Summary
Segmentation and predictive analytics offer operable insights into customer behavior and dynamics. When acted upon, these can be translated into a tangible increase in your KPIs. Pushing customers into a second purchase should be a prime concern for every business not solely for the second purchase itself, but because the second purchase is often a hurdle that once overcome will propel customers into full blown activity. Optimizing for the variables covered in this article – basket variety (and number of items), discount, and return policy – can increase the number of your returning customers, increase your average customer lifetime value and enlarge your active user pie. What's not to like?!