Why Go Beyond Basic Customer Segmentation? It Pays
Spoiler alert! The more granular your customer segments, the better your campaigns perform. Think of it this way – would you buy the same birthday present for every one of your friends? If you answered no, you understand segmentation, which holds the secret to customer loyalty, retention, and more. Allow us to explain
Top brands can drive 33% of their revenue via CRM marketing. That's a fact. These brands know how to discover and engage their most valuable customers on an ongoing basis. They have the power to ensure their campaigns grab each of their customers' attention. Every time.
How do they do it, you ask? An effective Customer-Led Marketing strategy has many components, but a key one is advanced customer segmentation.
Customer segmentation is a method of dividing customers into homogeneous groups with a high degree of accuracy. Leading brands segment customers based on demographic, behavior, predicted future behavior, and other vital indicators, going from tens to hundreds of audience segments. Why? They understand that the smaller the segment, the better it performs (more on that later).
Customer segmentation is complex, and determining the most effective message can be challenging. Nonetheless, as brands get to know their customers and more and more data becomes available, they must use it wisely to customize campaigns to their customers' needs.
Beyond basic customer segmentation also sets businesses apart in today's noisy, competitive landscape. By using the customer data and insight they accumulate, brands can enhance relevancy and personalization, ensuring each client receives the optimal message for them.
The Smaller the Target Group, The Higher the Uplift
Optimove Researchers ran a cross-site study to measure the correlation between the granularity of target groups and campaign uplift. Although smaller groups may seem less effective, the accumulated uplift is much higher than "spray and pray" campaigns.
The study found that small target groups, with up to 150 customers per campaign, had at least a $1.90 uplift per customer, while target groups of 1,500+ had an uplift of at most $0.50. Pretty big difference.
So, findings show that the smaller the target group, the more significant the uplift. In other words, when you cater to smaller customer segments with similar attributes and shared preferences, the more personal the message becomes, which naturally improves performance.
Pro-tip: By carefully segmenting them into small clusters, show your customers that you know them and what they want to hear. The more relevant your offers become, the higher the brand engagement and bottom-line impact.
The Distribution of Campaign Group Sizes
Optimove Marketing Data Analysts continued their research on target group sizes and the average uplift per customer to gain a deeper understanding of the trend.
In the graph below, the orange line represents the average uplift per customer.
We can see that the average uplift per customer was highest at $20.93 when the campaign was sent to segments of up to 4,999 customers. The uplift was three times higher than the average for target groups of 25,000+.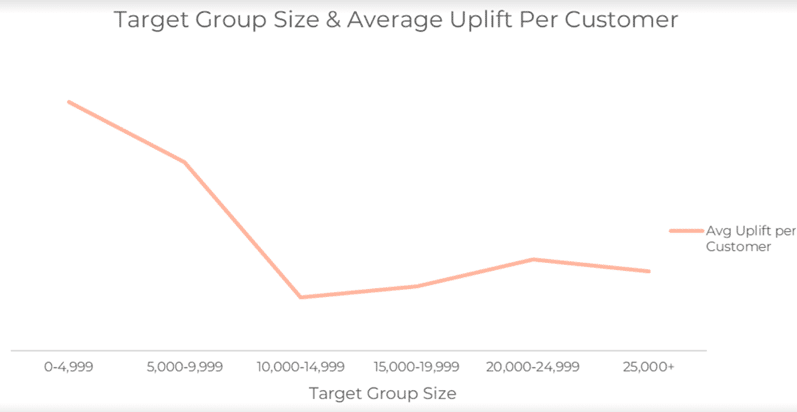 What you can learn here is simple: bigger target group, smaller uplift. In other words, the smaller the target group – the higher the average uplift per customer.
Maximize engagement and LTV
Marketers conduct dozens or even hundreds of customer campaigns at any given time. Accurate and advanced customer segmentation involves tracking dynamic changes and frequently updating new data.
Defining customer segments and discovering your customers' personas gives you the power to generate highly targeted offers – that can maximize customer engagement and LTV.
To do so, marketers need a 360-degree view of customers and a unified, holistic customer model at the foundation of innovative CRM and Customer-Led Marketing.
Optimove's next-gen multichannel marketing hub allows brands to easily track and monitor customer behavior over time and identify more granular customer segments to match them with personalized and highly successful campaigns.
Interested in a demo of an all-in-one Customer Led Marketing Platform that does all of the above? Request a one-on-one demo today!
For more advanced customer segmentation reads, check out this mini-series:
Be the first to comment on this post