Make this Holiday Season a Breeze with Real-Time Marketing
The summer may winding down, but brace yourselves, because the holiday season is lurking around the corner! Yes, it's that time of year again when consumers start planning their gift shopping escapades.
In the Optimove 2023 Consumer Holiday Shopping Survey, we learned that 50% of Americans will start holiday shopping by Halloween, with 17% already having started as early as August 31st! Most US shoppers have no plans to wait until Black Friday or Cyber Monday to start their shopping…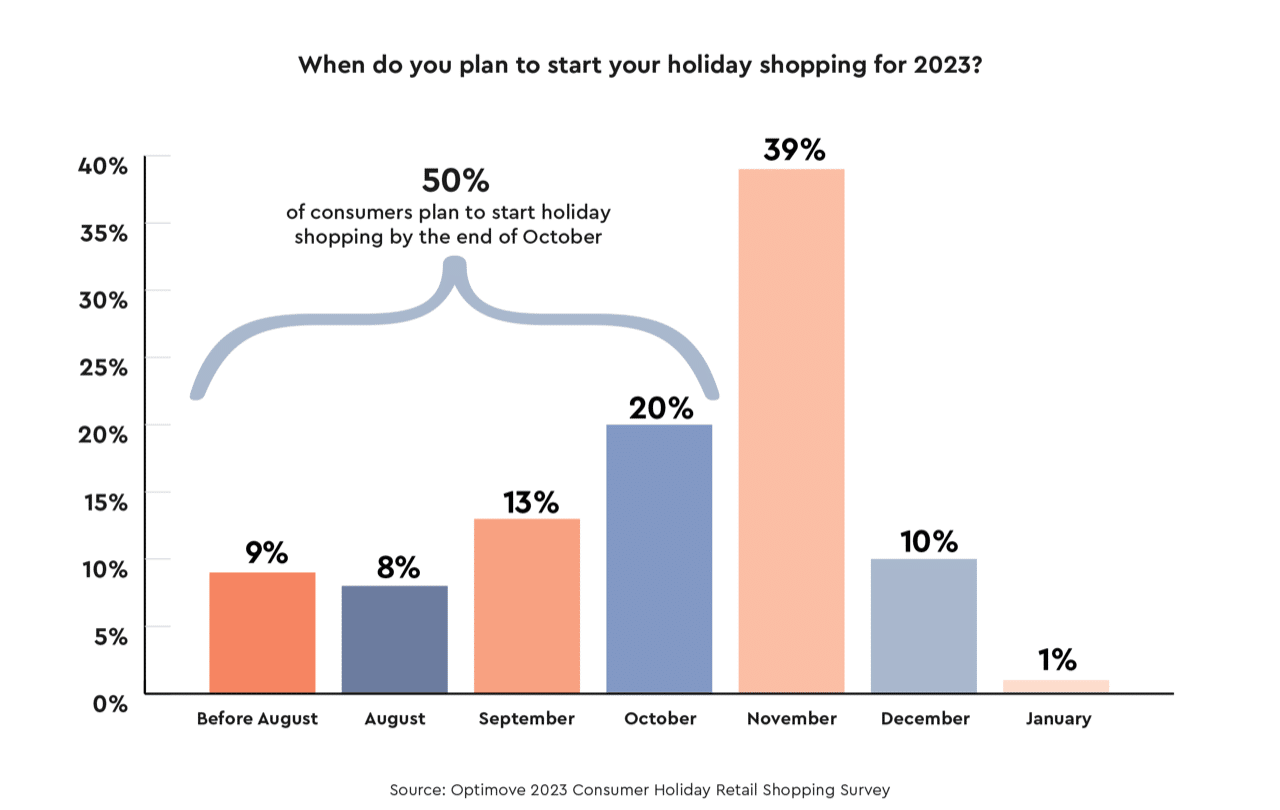 So, let's put on our thinking caps and strategize on how to capture attention and keep customers hooked from now, all the way through to the upcoming holiday season.
The Power of Contextual Marketing for Retailers
In holiday seasons gone by, marketing teams have set up seasonal campaigns, picked a topic, created an email, set up a wide audience, and scheduled for a specific date. While these pre-scheduled batch-and-blast campaigns have their merits, they often lack the personal touch that modern consumers crave.
At Optimove, we believe that putting your customers first will enable you to gain their loyalty for life. Part of putting the customer first means not just creating run-of-the-mill campaigns, but understanding what your customers really like, and tailoring your strategy around them.
As a retailer, you possess valuable customer data that can help you gain insights into their preferences based on their purchases, saved items, and on-site searches. Real-time marketing empowers you to seize the moment, and leverage the customer data that you have, enabling messages to be triggered based on live customer actions. With Optimove's real-time capabilities, you can even trigger messages based on events not initiated by the customer (Universal Events), such as changes in your product catalog, price adjustments, or stock levels. By focusing on customer-centric real-time approaches this holiday season, you can maximize their future value.
Must-Have Marketing Strategies this Holiday Season
One-third of respondents in the Optimove 2023 Consumer Holiday Shopping Survey (37%) said they get too many offers. So, to stand out in the crowded seasonal marketing arena, it's crucial to ensure that your messages are relevant, contextual, and personalized to cater to your customers' needs.
Here are our top recommended strategies that combine customer data with Universal Events:
Strategy 1: Price Drop Alerts
To implement real-time price drop alerts, you need two things. One, you'll need to know which products your customer wants to hear about, either their favorite category, an item they've saved, or an item they've viewed, for example. Two, you'll need a Digital Experience Platform (like Opti-X!) that can connect to your product catalog and use Universal Events to trigger in-the-moment messages. With these factors combined, you can send customers messages as soon as relevant products have dropped in price. Major time saver and value generator at times like Black Friday when there are new sales and price drops to announce!
Strategy 2: Back in Stock Alerts
Your customer has found their new favorite product, but when they go to purchase, it's out of stock! Luckily, you've given them the option to either Save for Later or provide their email address to be notified when it's back in stock. To send this notification, you'll need Universal Events connected to your product catalog to monitor stock levels and trigger the message as soon as the product becomes available. Make sure the customer is among the first to know, and boom, their purchase is back on track!
Strategy 3: New Products Added
Whether it's releasing a new collection specifically for the holidays, or simply updating your product range, adding new products to your inventory presents the additional challenge of getting them in front of your customers, especially when you have thousands of products to keep track of at any one time! With Universal Events, you can put your feet up and let us do the hard work, with events triggering automatically whenever a new product has appeared in your catalog and triggering a dynamically personalized message to customers who have shopped in that category before or bought similar items, for example. All without you lifting a finger, and all in the blink of an eye!
Remember, when implementing your real-time marketing strategies with Universal Events, you should explore which channels work best for delivering to your customers, whether that's web push notifications, emails, mobile in-app messages, or SMS. Think about their experience when receiving the message, and how you can make it as contextual as possible, to ensure a seamless customer experience.
Let's get started!
Did you know that for the 2023 holiday season almost half of US consumers' purchases will be from brands or stores they have shopped at before That's precisely why it's crucial to implement the strategies outlined above and keep your existing customers engaged this holiday season. Moreover, remember that there's also a 50% chunk of potential customers who are open to discovering new retailers. So, make sure your offers shine brightly to capture their attention!
By harnessing your knowledge of customers and combining it with highly contextual Universal Events, you can create hyper-personalized marketing campaigns that speak directly to each individual, significantly increasing your chances of converting them this holiday season.
Optimove can help! Our native channels, combined with real-time capabilities like Universal Events, will allow you to orchestrate campaigns that maximize customers' future value and keep them engaged for the long haul. Talk to us today to find out more.
---