These Holidays, Your Customers are Spending More – Just Not with You
Given the influx of new shoppers in search of gifts during the holiday season, it's very tempting for e-tailers to focus on new user acquisition, even though such efforts are usually characterized by high acquisition costs, extreme discounts and a prevalence of one-time cherry pickers. And while user acquisition will no doubt be an important part of all e-tailers' holiday strategies, the key to a successful holiday season might just lie in how e-tailers are able to retain and engage their existing customer bases.
We decided to unleash Optimove Lab's data scientists to dig in the data, and examine the facts, determined to unveil the huge potential lying in your existing customer base. We wanted to see how business is divided between new and existing customers during the holiday season (from Black Friday to Christmas), and whether e-tailers are maximizing the spend potential of their existing customers. We looked at data aggregated from millions of shoppers and transactions across a diverse e-retail gamut and examined consumers' shopping tendencies during the holiday season as compared to the rest of the year.
Looking at a cross section of the industry, the numbers show that e-retailers experience 50% more transactions by new customers as compared with the monthly average of the rest of the year. Repeat customers, by comparison, made only 17% more purchases during the holiday period as compared to their rest-of-year monthly average. In addition, repeat customers did not increase their purchase amounts during the holidays: on average, they spent the same amount on purchases during the holidays as they spent during the rest of the year.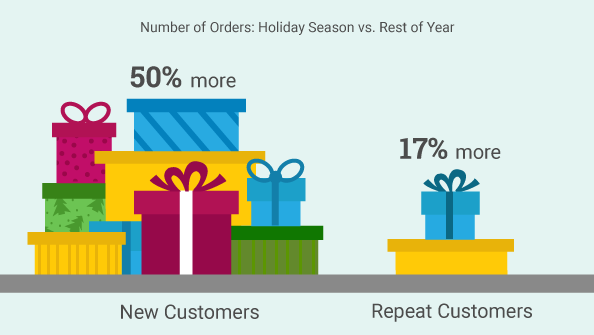 Our data also shows that new customers who make their first purchase during the holidays have lower survival rates than new customers who make their first purchase during any other period: first-time holiday customers turned into repeat customers 19% less frequently.
The rise in holiday traffic in all e-tailers is attributed mainly to new shoppers, who in greater percentage than usual are likely to remain one-timers. Existing customers, on the other hand, are not increasing their business significantly with the brands they're loyal to — neither in frequency nor in purchase amount.
In other words, your loyal customers are spending more money during the holidays – just not with you.
Leveraging Your Data on Existing Customers
Retailers are waging a war for the wallet share of new shoppers, but their victory may be hollow. Acquisition of one-time shoppers is extremely costly, especially around the holiday season, when slashing prices is a major acquisition strategy. And conversion of first-time holiday customers into repeat customers is 19% less successful. In this setting, new customers shopping with you for the holidays may actually be hurting your profit margins.
Instead, e-tailers would be better off this holiday shopping season focusing their marketing efforts on their existing customers. These are the customers that already know you, and, more importantly, you know them. When used wisely, the combination of customer brand loyalty and your rich customer data can lead to significantly increased revenue, especially during high-octane shopping periods like the holidays.
Tapping your existing customers may be where the greatest potential is found. This is a great time to use your data to determine the best way to increase both spend levels and transaction frequency for existing customers. And giving your loyal customers the incentives they need to do business with you during the holiday season may strengthen their bond with your brand and prove to be not only an effective holiday strategy, but a long-term strategy that keeps on giving long after the last ornament is off the tree.
Rock your Retention!
Here are some tactics for empowering your holiday-season marketing to existing customers:
Identify your seasonal power shoppers – Some of your existing customers may be shopping only around the holidays. Identifying this segment will enable you to bring them back to your site with a gentle reminder and the right targeted offers.
Do more for your best customers – Don't lose your VIPs to the competition. Your top segments according to metrics such as lifetime value, average order value and RFM, are perfectly positioned to generate revenue now. Make sure that they have the right incentives to do so! Sneak peaks into upcoming deals, early access to sales and targeted promotions are sure to appeal.
Make the right recommendations – Product recommendations top the list of tactics to keep customers coming back and adding items to their baskets. Use your existing data to send individualized recommendations based on past purchases and browsing history. Put a special emphasis on recent behavior, as product preferences may change significantly around the holidays when your repeat customers are searching for gifts. You should also include exploratory recommendations not in line with regular buying habits, which may help the gift searchers – but go gently on those.
Cater to the procrastinators – They won't be able to put it off indefinitely. Send last-minute gift ideas, mention firm deadlines for shipping before Christmas and even offer immediate-delivery gift certificates. You may not only get their business, but also their renewed loyalty for having eased the annual headache-inducing gift hunt.
Create content that cuts through the clutter – Never underestimate the importance of your content. Stand out with creative email subject lines, use images wisely, remember the power of video and provide inspiration. Smart, emphatic and elegant communication will make you heard.
Additional retention activity should be geared at maximizing the conversion rate of new shoppers into repeat customers. Aim to increase the number of items bought on the first order (the more items customers purchase in their first order – the more likely they are to become repeat customers), and collect key data from new shoppers in order to target them again in January with valuable offers to promote your after-holiday sales.
Needle-Moving Customer Marketing
Americans are expected to spend $630B this winter holiday season. That's an average of $806 per person, of which 73% will be spent on gifts alone. The total projected e-commerce spend is $349B. October 2015 has already seen 9.8% more e-commerce revenue, year over year (sources: Retail Insight Center, Outbrain).
With the biggest shopping dates still ahead and a projected 42% of Americans yet to start their holiday shopping (source: fundivo), there's still opportunity to capture significant market share. Delving into your data and producing meaningful, needle-moving personalized marketing campaigns to existing customers is key to higher revenues, happier customers and increased brand loyalty. Your repeat customers will spend an average of $588 on gifts alone this year – it's not too late to use your customer data to maximize your share of this holiday season's spend. Make sure that your retention guarantees you a share in the holiday shopping bounty.