Fresh New Look, Same Ol' Promise
Our new look is the perfect representation of where we are today and the values that lead us – a shrewd, innovative, scientific approach, alongside a strong commitment to our clients and partners to provide the products and services that best solve their relationship marketing challenges.
It took about a year to decide that it's time for Optimove to rebrand itself. It took another year to turn the decision into reality. And today, I couldn't be prouder with the result – our fresh, new look!
We are all part of a new era. An era where growth matters above all. An era where individuals and groups must embrace change in order to thrive.
Three years ago, I began receiving internal feedback on our brand and its maturity. "That square-headed yellow guy looks silly," "the tricolored logo is too colorful," "we can't sell to enterprises looking like this…" My initial reaction was to push back. "It's memorable!" "It represents our values – smart yet cool, scientific but sleek, geek but hip, etc., etc."
But the feedback kept on coming, and eventually it hit me – yes, the brand is memorable, it has its equity, but it no longer represents Optimove's positioning. We initially built the Optimove brand in 2013, and gave it a facelift early in 2016, but a year and a half later, I knew it was time for a brand overhaul.
We weren't seeking change for the sake of change; our aim was to keep pace with Optimove's evolution, ensuring that our voice, vibe, look and feel are loyal to what we have become. With this in mind, we decided that the transformation should begin with our logo. We sought help from the gifted typographer, Oded Ezer, to help us create a new, up-to-date version of the Optimove logo. As his first step, Oded interviewed Pini Yakuel (Optimove's CEO) and myself to suss out what we want this new version to reflect.
If you've ever had the opportunity to participate in a branding process, you definitely know that it ain't easy; it involves hours and hours of talking about values, voice, colors, tones and other "soft," subjective areas that resonate differently with each individual. The type of things everyone has an opinion about, but are almost impossible to agree upon.
After two-and-a-half (very) long interviews with Oded, it was clear that we wanted the new logo to reflect maturity – not IBM maturity, but a sleek, hip maturity. We're still a fast-moving, innovative company, but no longer a 15-person startup operating out of a garage. From a brand-value perspective, we wanted to reflect our shrewd, innovative, scientific approach, alongside our strong commitment to consistently deliver the products and services that best solve our clients' and partners' relationship marketing challenges.
We also wanted to reflect the product perspective – what Optimove actually does. The name Optimove is the fusion of Opti (optimal) and Move (making the next best move). This name perfectly represents our ongoing mission to empower marketers with the ability to continuously improve their relationship marketing, by making the next best move for each and every customer, at every point in time. To fulfill this mission, we must embrace an adaptative mindset – dynamic segmentation, insight generation and recommendation engines tailored for each and every client we work with, and so forth. One size has never fit all.
All of the above (and more) was the fuel we gave Oded, the typographer. And then he went silent on us for a good couple of weeks. Early one morning, an email came in from Oded with a number of highly creative concepts for the brand-new Optimove logo. After taking a close look at all of them, one of them stood out to us as extremely compelling, though we weren't completely sure what exactly we were looking at! This is how Oded presented us with that one: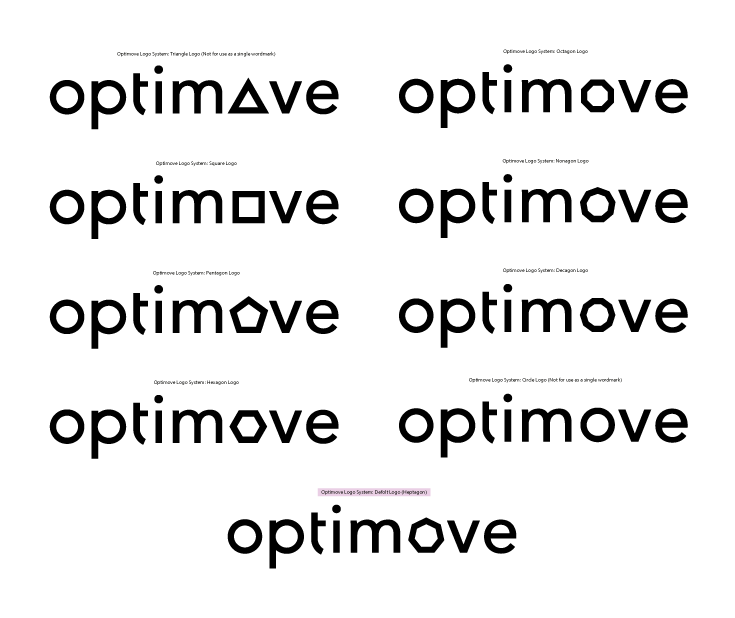 When we hopped on a call with Oded later that day, he explained that he'd created us a new, dynamic logo. It can appear in static form with any of the polygons, or dynamically, with the polygon gaining more and more sides (with animation), until it evolves into a circle. It made perfect sense to us: innovative, sophisticated, evolving, adaptive, dynamic, smart… It reflected everything we wanted our company logo to reflect!
After a few rounds of adjustments and fine-tuning, we had ourselves an amazing new logo system.
The next phase: to create an all-new visual brand ID for our company with this logo as the Genesis point. Extending the new logo into a whole new brand identity is where the heavy lifting started; the logo was just the tip of the iceberg.
The question we then faced was whether to retain an outside agency for the project or to do it with our in-house design talent. I had no doubt that this project should be tackled by our in-house team. If you want your visual identity to truly reflect your brand, you need someone who "lives and breathes" the brand, its values and its traits.
Fast forward a couple of months, and our super-talented in-house designers, Galit Steinberg and Dana Fisher Zahavi, came up with three concept alternatives:
#1. The "chess" concept (a.k.a., making the optimal move):
#2. The "movement" concept:
#3. The "shapes and spaces" concept:
All three were strong, but the "chess" concept stood out for us. We thought that it wasn't a "fair competition" compared to the other two alternatives. So, we asked Galit and Dana, our designers, to develop a fourth theme to challenge the "chess" concept. Spoiler: this was where the magic happened.
The brief for the fourth abstract was for it to be directly related to the new logo system – reflecting its shapes, sophistication and dynamism.
This is how the "Optimove Design Algorithm" was born. Our innovative designers built an algorithm that defines Optimove's visual identity.
It looks something like this:
Here's how it works: when we use the triangle shape, it must be accompanied by one color and one line. When we use the circle, for example, it must be accompanied by two colors, one line, two photos, an illustration and a pattern.
This is what it looked like in practice:
The fourth concept took home the symbolic trophy. Smart (it has its own algorithm!), dynamic, sophisticated, and mature.
Next, we started debating the color scheme and questioning whether or not it was the perfect fit for the new brand identity.
Our designers went back to their Macs with this concern and came up with four alternative color combinations:
Any guesses as to which one we chose?
A few weeks later, I received an email with the subject line, "Optimove's brand book." I can't remember the last time I felt so full of anticipation. You can download it here, or just enjoy the following few excerpts.
Oh, and we chose color scheme #4!
The Colors
The Font
The Algorithm
We were approaching the last mile… or, truth be told, the last 10 miles: redesigning the website (and building it, QAing it, etc.), as well as redesigning presentations, brochures, documents, event booths, signage, etc. We wanted to give everything a good polish and shine. And here we are, September 2019, flipping the switch on our new visual identity.
It wasn't easy, but the results are worth it! We are confident that our new look is the perfect representation of where we are today and the values that lead us – a shrewd, innovative, scientific approach, alongside a strong commitment to our clients and partners to provide the products and services that best solve their relationship marketing challenges.
So here it is, our fresh new look, same ol' promise!
I'd like to extend a huge thank you to everyone involved in the project, especially our gifted designers, Galit Steinberg and Dana Fisher Zahavi, and to the phenomenal typographer, Oded Ezer.
Be the first to comment on this post