Some CRM Teams Make 45% More Revenue Than Others. What Do They Have in Common?
Well, they have an Optimove Certified User on their team. Since launched in 2019. it grew in popularity – and late last year we introduced the one-week, award-bearing, team-wide challenge, "OptiGrad". The results are so satisfying, we wonder why you're still reading this instead of singing up
The most in-with-the-times B2C brands out there are customer-centric. The smartest among them make a strategic effort and investment in increasing their Customer Lifetime Value by making CRM Marketing a priority. The luckiest ones do it with Optimove as their Multichannel Marketing/Cross-Channel Campaign Management Hub.
And, at the edge of that pyramid of doing everything you can to grow through your existing customers, sit the Optimove Graduates.
What are they getting when climbing to that top? Oh, I don't know, maybe a much higher revenue contribution from the CRM? (45% to be exact is what teams that completed OptiGrad see compared to teams that still did not)
Okay, so you get it – the more brands focus on executing smart, sophisticated CRM Marketing, the more money they make of their existing customers. But what in god's name is OptiGrad?
Glad you asked.
Introduced a little more than two years ago (which, in reality, feels like a lot more), the "Optimove Professional Certification" program – aiming to help Optimove users improve CRM marketing results by mastering Optimove's unique set of capabilities – is a test that Optimove clients can take. Upon completion/passing the test, the user receives a digital certification and – and more importantly – becomes a top-notch smart CRM expert. The kind that, as mentioned, makes more revenue from each existing client.
What has happened since is kind of remarkable.
Since announced, the interest in the program has grown every month, and today 1 in 4 Optimove clients has a certified Optimover on their team.
And if now you're wondering what that spike was in November 2020, then first, let us applaud your awareness. And secondly, it's the perfect Segway to what happened next.
Introducing: OptiGrad!
As a company that focuses on customer relationships, we love to learn from our own customers as well. And as the certification program grew in popularity, we've noticed some cool behaviors.
One of them, for example, came from the CRM team over at Funstage GmbH, where they all took the test in the same week. When we talked to them about it, we realized the potential excitement it holds as a group activity. When we looked into it further, we saw that when certifying as a group, users are more likely to become fully certified (and, as a result, drive improved CRM contribution) than individual participants.
Inspired by that, we created and launched a "certification week" challenge – AKA OptiGard.
Instead of certifying individuals, we launched a more holistic, gamified, team-wide experience, in which the entire team joins a one-week challenge and gets certified all at once.
(Yeah, it happened last November.)
During the OptiGrad challenge week, our awesome customer success managers host Q&A sessions, helping the teams prepare for the exam. Remember study groups? 😊
Once the prep sessions are over, the team gets a one-week timeframe to take the test, competing internally on the highest score.
The winner (the team member with the highest score) gets an exclusive gift from us, but we're not leaving the rest of the team empty-handed! The whole team will receive a cool graduation kit full of graduation ceremony-themed items such as our DIY graduation hats, certificates, stickers, and pins.
And while that represents significant, consistent growth, that also means that 77% of our customers have yet to take the test.
What's in it for You?
Oh, besides the potential (some might say probable) 45% increase in CRM revenue contribution? So, there's that LinkedIn badge. Adding our certificate to your LinkedIn profile can certainly help you showcase your expertise and easily tell the world that you're a CRM marketing expert. additionally, LinkedIn found that members with certifications receive an average of 6x more profile views.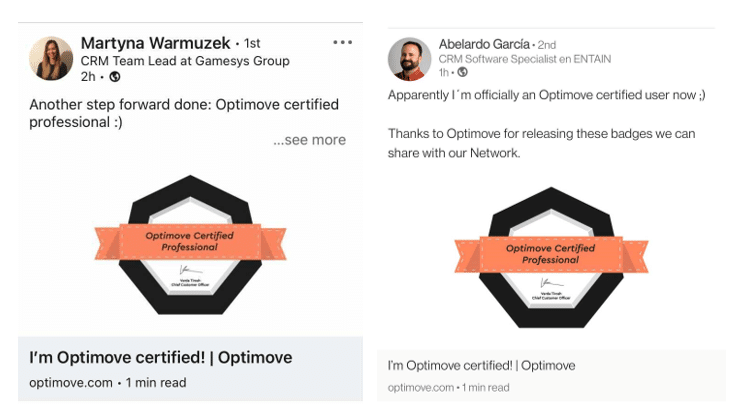 But there's even more to it than this.
One of the unique properties of the new OptiGrad challenge is how the team-wide effort, combined with the limited time window, provide the opportunity to step up a whole team's CRM game quickly and effectively.
As a result, the team gets becomes more confident and comfortable when trying new features and pushing the limits of CRM marketing.
Or, as Craig MacMillan, a CRM Manager at Funstage, told us: "The certification gave our team a big confidence boost. We learned more about the extensive set of features Optimove offers, and that really encouraged us to start using new features and experiment with what we already used."
So, are you not yet an OptiGrad certified Optimover? Fix it by contacting your CSM, or simply send me an email at [email protected] and we'll get in touch ASAP.