Real-Time Sportsbook Marketing Strategies to Ignite Soccer Fan Engagement 
After an incredibly exciting year in the world of soccer, we want to make sure that you're set with all the tools you need to make the most of the season ahead.
From the World Cup in 2022, we learned that an average of 80% of all bets were placed via mobile – and when we look at live bets specifically, the average percentage of users placing their bets on mobile rises to a whopping 90%!
Bottom line? Your players want the ability to place bets and check the scores directly in the palm of their hand, readily available and quickly accessible so they can keep up to date with the match in real-time too.
With mobile marketing, specifically push notifications for mobile apps and PWAs, sending real-time, contextual messaging is the best way to keep your players engaged; if you caught our CRM Lightning Talk at ICE 2023, you'll already know that real-time campaigns have 10x the engagement of their scheduled counterparts.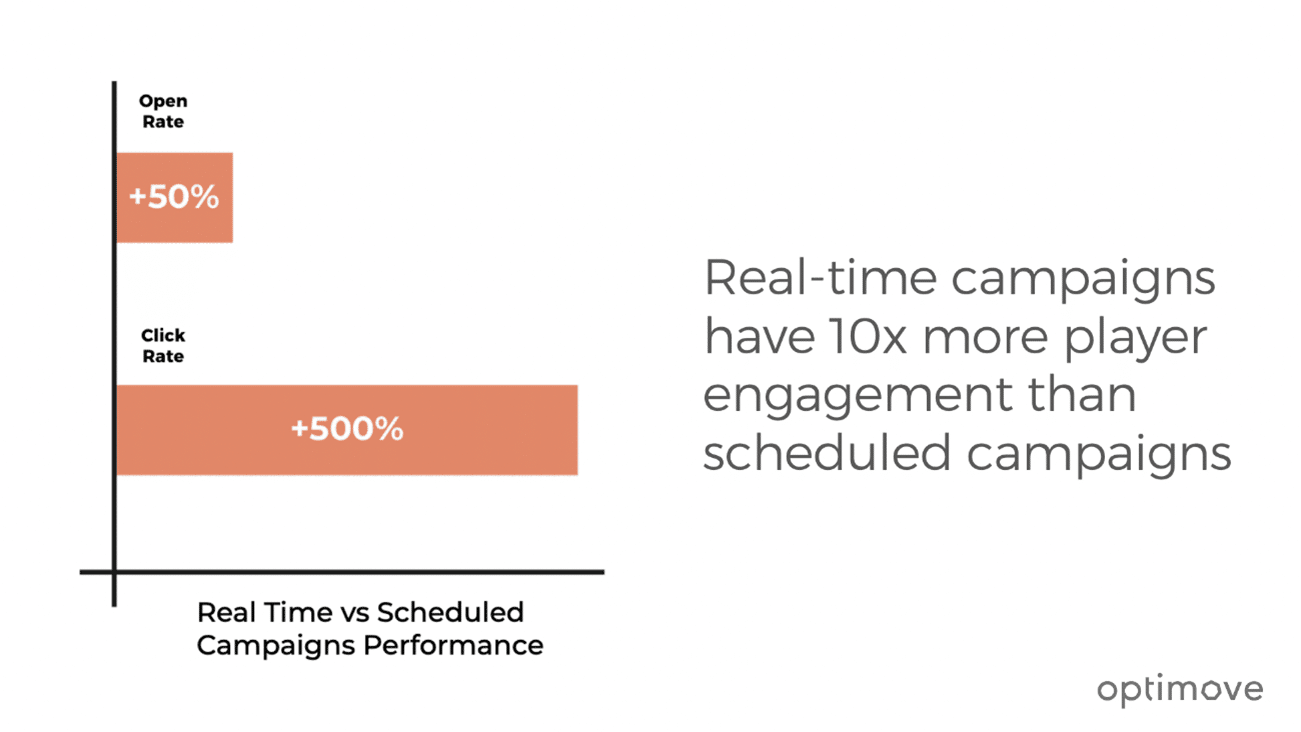 Scaling Real-time Sportbook Marketing
So, we know that mobile is where your players are at, and we know that real-time campaigns outshine pre-scheduled campaigns when it comes to engagement. But there are two types of real-time mobile campaigns to consider.
The first type is triggered when a customer performs an action. For example, when they abandon the deposit process.
The second is triggered when something relevant to your customers occurs outside of their control (we call these Universal Events) – for example, triggering a campaign to all Messi fans immediately after he scores a goal with an update on the betting line.
While the former covers the basics, it lacks the impact and scalability of the latter—Live or In-Play real-time triggers—essential for true real-time marketing.
For that you need a sophisticated real-time engagement engine that can:
Receive the Universal Event
Identify the customers who it is relevant for
Generate the content to be sent
Send the campaign
And all in mere seconds….
For teams who are looking to engage with their players in real-time this soccer season, real-time online sportsbook marketing is a no brainer. Whether it's live match scores and highlights, making sure players know that their favorite teams are about to kick off, or updating them on the final score. Let's look at a couple of use cases to illustrate the point.
Leveraging Real-time Marketing For Enhanced Fan Engagement
Use Case No1: Event About to Start
In days gone by, your team could set up scheduled campaigns for each major fixture, creating target groups of people who have betted on that team before, and creating dedicated content for the campaign. Great, but not scalable.
By utilizing a Universal Event, triggered when a game is about to start, you can create a campaign that doesn't just trigger for one match, but any matches that are relevant to your customers. The Opti-X message triggering engine can receive the event, generate the content, define the audiences, and send the campaign on the relevant channel – all in time for your players to place their bets!
Use Case No2: Live Score Updates
Once your players have chosen their match of the day and placed their bets, keep them in the loop (and keep your brand top of mind) with live match updates. Opti-X's Universal Events can help you trigger messages based on any data your site holds, whether it's the latest score, the half-time odds, or a red card!
Use Case 3: New Matches Added
With so many soccer matches being played every day, all around the world, it can be hard to stay on top of letting your players know when new matches come up. Whether it's the local derby, or the final of the Champion's League, you can use Universal Events to trigger marketing campaigns as soon as these matches have been added to your site, personalized to each player's preferences. Generate hype and make your site or app their go-to when players want to check the latest matches.
At Optimove, we aim to provide teams with the tools they need to react in real-time to sporting events and create high-impact, contextual campaigns. With our Digital Experience Platform, you can utilize Real-Time Content Recommendations and Universal Events to create proactive and reactive marketing strategies that maximize player lifetime value. Like the sound of that? Talk to the Optimove team today to find out more!