4 Brands that Get Emotionally Intelligent Marketing – and One that Doesn't
Emotionally intelligent marketing is the art of connecting with the right people, in the right way, at the right time with the right message. When done right, it directly impacts the brand's performance.
Last night I was offered a job. In fact, not one, but three jobs. I was using LinkedIn and the site was serving me enticing job offers from leading companies. That's a great tactic on LinkedIn's part, but considering the fact that I'm the founder and CEO of my own rapidly growing company, in my case it sort of missed the point. My title, connections and even the content of the posts I share should have called LinkedIn's attention to the fact that no, I am in fact not in the market for the position of Research Manager at Samba TV (although I'm sure it's a fascinating opportunity that many candidates out there will pounce on.)

Having failed to act on the data that is right there for the taking, the platform ended up connecting with me in a manner that defeats my expectations from leading brands. For today's savvy customers, it is just bad form.
In our hyper-informed world, it's getting increasingly difficult for brands to communicate with us in an emotionally intelligent manner. While 73% of consumers say that they prefer to do business with brands that spend time personalizing their experience (source), 60% of brands claim that they are finding it increasingly hard to build a scalable and personalized communications strategy (source).
In a world where we are constantly overloaded with generic and impersonal messaging that usually serves to irritate rather than inspire, I wanted to call out four companies that are already doing an awesome job at connecting with consumers in an emotionally intelligent way.
Emotional intelligence is defined by Webster as, "the capacity to be aware of, control, and express one's emotions, and to handle interpersonal relationships judiciously and empathetically." Emotionally intelligent marketing is the art of connecting with every customer in the right way, at the right time and with a message that appeals, resonates and maybe even inspires. At Optimove, we believe that great marketing is a combination of both art and science – the following companies get it!
British Airways
Airlines aren't really known for their exceptional customer service, but with this creative it seems that British Airways really managed to send a message that resonated with British expatriates living around the world. Playing on the Brit's different name for "potato chips" manages to connect with the audience in a really personal way. For this Brit expat, the post certainly invoked the intended sense of nostalgia, and I for one have been searching for a bag of Salt and Vinegar "crisps" ever since. Hats off BA, I'll definitely be thinking about you for my next flight to Blighty.
Harry's
Harry's as a brand is known for its consistently pleasing visual design, and with this campaign targeting less-frequent shavers, they are effectively both personalizing their communication while also surfacing to us as consumers what they are actually doing with this data. The design is simple and clean, and it provides each customer with a personalized shaving plan in an incredibly easy and effective way. It makes make me feel like they spent the extra few minutes thinking about me as a customer.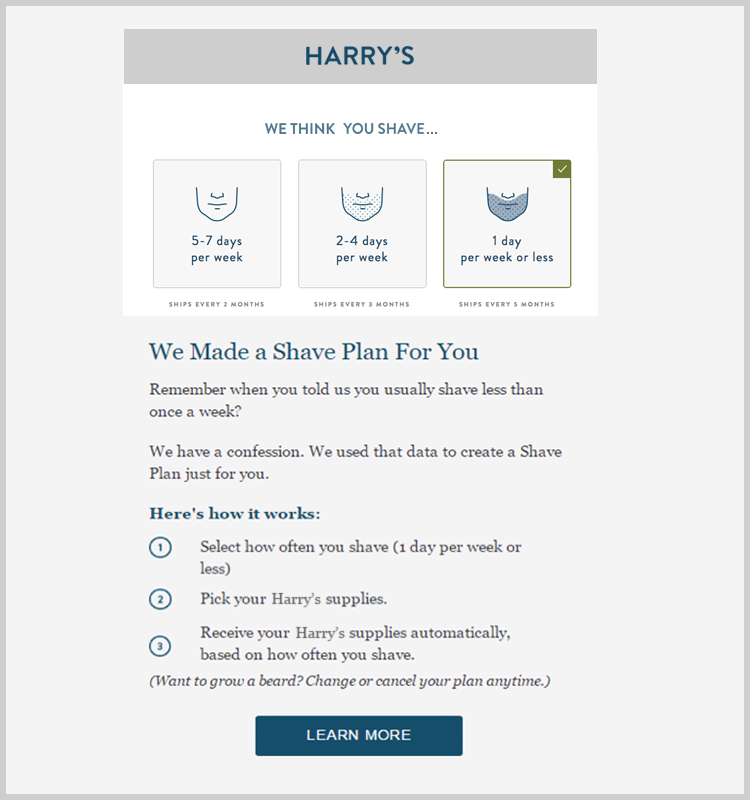 Uber
Shalom to you too, Uber. The kings of "break things and apologize" used simple data segmentation to target Uber riders that live outside Israel, but who have visited the country. The use of the Hebrew greeting was a nice touch, and this eye-catching design, which plays to Israeli's national pride as the "Startup Nation," was a terrifically effective way of connecting with their customers. This time, rather than asking them for money, they are asking for their political clout.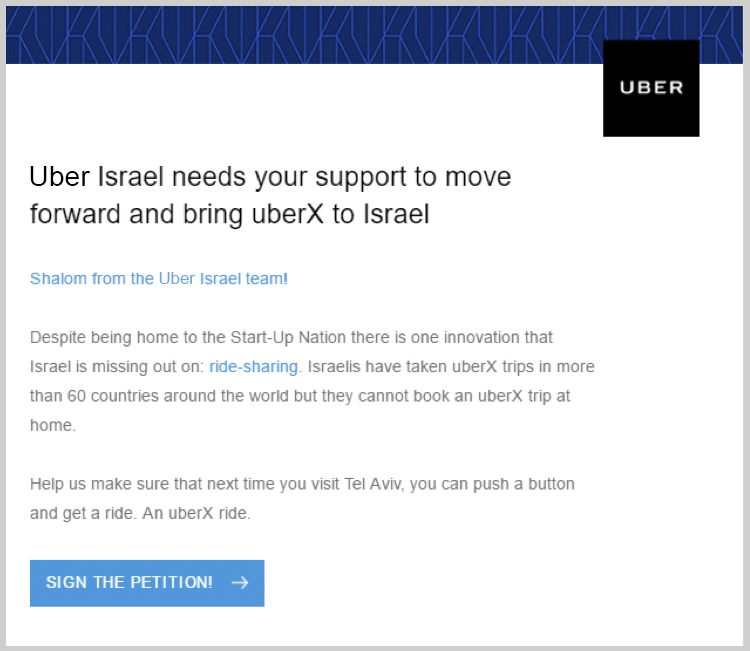 ZocDoc
ZocDoc's week-after-your-birthday email was perhaps the most effective and smile-inducing email I have received from any brand this week. By playfully reminding me that I need to see the doctor more often, ZocDoc connected with me effectively, both because it's great to receive birthday emails and because they served me with a timely and extremely relevant piece of information. Come to think of it, I do need to schedule that appointment.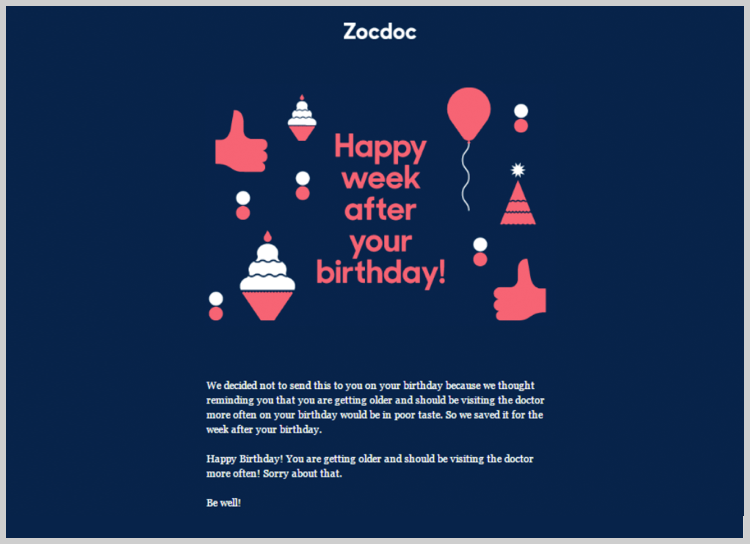 These are just a few examples of brands that demonstrate a keen understanding of the power of connecting with their customers in an emotionally intelligent way. We at Optimove want to give every brand the power to really "get" their customers and scale their personalized one-to-one marketing in a way that is sure to delight their customers.