The Best of Fantasy Sports Betting Campaigns to Follow
A whole new world of action-packed campaign ideas awaits you. Win large with the following two campaign strategies (and download four more)
When you hear the term "fantasy sports", many immediately think of fantasy football in the U.S. or perhaps fantasy soccer in the U.K.
But there's more to it than that. There's a huge sports betting industry in India – fantasy cricket – where real cricket players play in real life matches – giving online sports bettors the opportunity to place bets on the winning cricket team.
Now that sports are back in full swing, after long months of lockdown due to the pandemic, we'll show you how to score a whole host of goals with your fantasy sports bettors by following two CRM campaign strategies below and we'll provide you with access to download all 6 in the full use case here.
#1 – CRM Campaign Strategy: Number of Deposits Personalization
Not surprisingly, players who make more deposits tend to have a higher future value. Thus, there is a strong motivation for fantasy sports betting operators to encourage players to make as many deposits as possible. Again, pretty obvious BUT different players should receive different incentives, and you must take extra care to nurture your most qualifying players.
With Optimove, you can easily analyze player data to determine how to tier your players best. For example, a fantasy sportsbook used Optimove to gather valuable insights to increase the number of deposits per tier.
As you can see in the chart below, for the fantasy sports betting website represented by the following player data, three clear value tiers are corresponding to the number of deposits made:
By following the Number of Deposits Personalization strategy, the fantasy sports betting operator sent a message to new players on the eighth day since each one's first deposit. These value tiers further differentiated the messaging and offer:
The lowest tier was targeted with a very aggressive offer, along with a 20% match bonus for the next two deposits.
The medium and high tiers each received deposit matching bonuses of 15% and 10%, respectively, for deposits higher than the average of their individual deposits to date. For example, if the average of a player's first five deposits was €115, the minimum deposit amount to receive the bonus would be set at €120.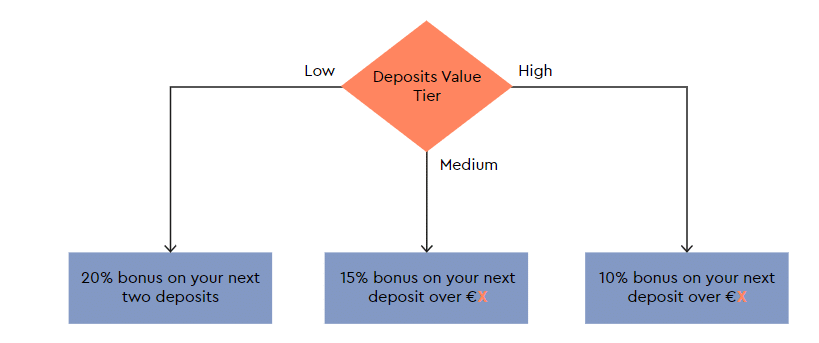 #2 – CRM Campaign Strategy: Risk-of-Churn and High-Roller Personalization
This campaign was sent to new players on the eleventh day since each one's first deposit. It was segmented into three groups, based on a combination of two factors: days since last activity and activity level. Together, these two factors were used to infer which players were at risk of churn and which were potentially valuable high rollers.
By using Optimove to analyze player data to determine the relevant tiers, the fantasy sportsbook operator created definitions for this campaign's segmentation, such as:
Risk of Churn = Players with more than three days elapsed since their last activity
High Roller = Players meeting all three of these criteria:
Three or fewer days elapsed since their last activity
At least six days with either a deposit, bet or both
Total deposit amount to date in the top 20% of all new players
All Other Players = Players who don't fall into the above two segments
Appropriate messages and incentives can then be automatically sent to each of these three segments. A good campaign strategy can be mimicked using the following flowchart: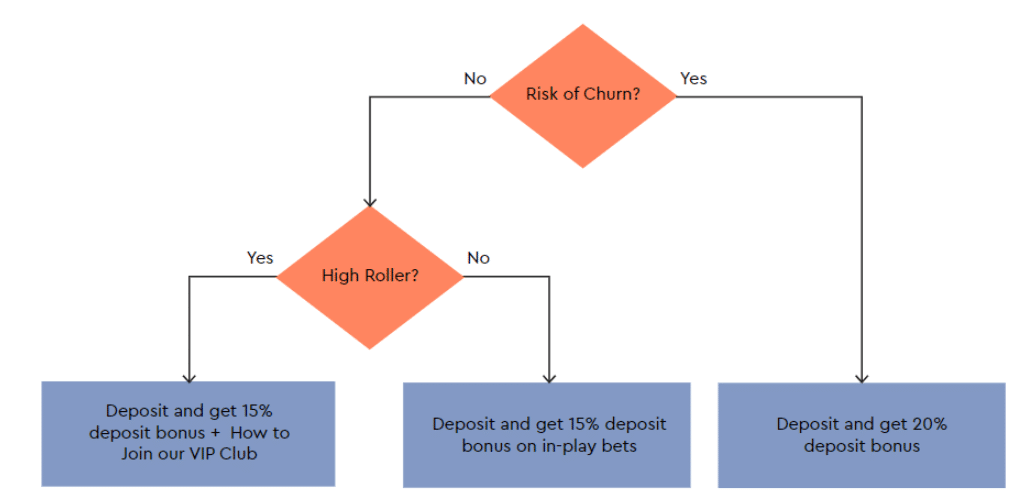 In Sum
Today we presented you with a couple of bets worth taking on your new players. To be a winning operator, it is crucial to maximize those who just arrive at your website.
For your next high-profile CRM campaigns, be sure to combine player segmentation and personalized player messaging to increase deposit amounts, longevity, and your new players' future value.
For more opportunities to cash in on your new players, download all six marketing plan methodologies and make sure to read part one here on how to increase the value of your new sports bettors.