Optimove Makes Further Advancements in Gartner's Magic Quadrant for Multichannel Marketing Hubs
Recognized as a "Challenger" for the second straight year, Optimove again saw improvements across all Critical Capability use cases. Read on for an in-depth analysis of the results
For the 2nd year in a row, Optimove is recognized as a Challenger in Gartner's Magic Quadrant for Multichannel Marketing Hubs1. This is also the 3rd consecutive year that Optimove has seen significantly improved scores across all Critical Capability use cases.
This year's Magic Quadrant evaluated 20 different vendors on 15 different criteria and ranked them against four critical use cases. In the Critical Capabilities report, Optimove's average scores meant it broke into the top five in 3 use cases, while finishing right on the cusp of the top 5 for the 4th and final use case. The scores accumulate to the following rankings:
2nd highest scored vendor for Campaign measurement (improvement)
3rd highest for the Campaign Creation use case (no change)
4th highest for Campaign Orchestration (improvement)
6th highest for Campaign Execution (improvement)
This comes while Optimove is still the only provider with a Leader status on G2 across all four relevant categories – Customer Data Platform, Marketing Automation, Marketing Analytics, and Customer Journey Analytics.
Optimove's Progression Over the Years: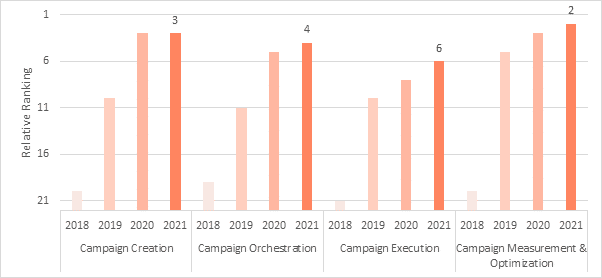 As part of the evaluation, customer reviews posted to Gartner Peer Insights are also considered. Elizabeth Owens, VP Marketing at Paper Source, was cited in one such review saying, "the Optimove platform transformed our operations, allowing us to be smart and nimble. Within the first year, we saw an immediate return from the efficiencies, reporting, and analytics within the system."
Overall, the results mean that Optimove's offering is ideal for brands in retail, gaming, travel, financial services, and media seeking to scale their CRM marketing and maximize customer lifetime value.
In-Depth: Critical Capability Use Cases
The following represents Optimove's interpretation of the 2021 Critical Capabilities for Multichannel Marketing Hubs evaluation and to help marketers better understand the results as they pertain to Optimove.
Campaign Creation
For the second straight year, Optimove received the third-best score for Campaign Creation. Optimove views this as an explicit recognition of its ability to provide marketers with tools to set access, evaluate, and apply customer insights for audience segmentation and content creation.
Specifically, Optimove's Customer Explorers provide marketers with no-code access to unified and up-to-date customer data for insight discovery and activation. At the same time, Optibot, Optimove's AI marketing bot, proactively surfaces actionable customer insights.
Campaign Orchestration
This year saw Optimove move up one place in Campaign Orchestration, which includes planning the channels through which a multichannel marketing campaign will be delivered and the sequencing and timing of messages and/or offers.
Optimove's unique approach to orchestration combines marketer-led frameworks with next-generation AI-journey mapping to orchestrate multichannel journeys that never crossfire or break.
Campaign Execution
In this year's Critical Capabilities, Optimove went from the 8th to the 3rd highest score for Campaign Execution.
We believe this recognition comes from our native execution channels for email, mobile push notifications, in-app messaging, and web push and pop-ups, our continuous investment in AI-led self-optimization tools that match the best treatment and content to each customer, and the introduction of the aforementioned Mission Control.
Campaign Measurement & Optimization
Finally, Optimove now holds the second-highest Campaign Measurement & Optimization score.
We believe our focus on goal-based marketing at both the campaign and journey levels, as well as our platform's ability to measure the incremental uplift of marketing activities on any business KPI, were once again recognized. Furthermore, the ease with which marketers can implement insights for optimization and how Optimove's AI facilitates continuous optimization of campaigns and journeys drives this recognition.
In-Depth: Optimove's Strengths
The following represents Optimove's interpretation of the 2021 Magic Quadrant for Multichannel Marketing Hubs evaluation and to help marketers better understand the results as they pertain to Optimove.
Personalized Engagement
We view this as a direct result of our seamless combination of customer insights and advanced marketing orchestration that enables marketers to go from ideation to execution faster than ever. In fact, in a recent survey of Optimove clients, 67% of respondents said Optimove had reduced the time it takes to complete ideation-to-execution cycles by over 25%.
Ease of Use
Optimove provides no-code tools throughout the marketing workflow. Marketers have access to powerful customer analysis tools and visualizations for insight discovery, blank-canvas and advanced prioritization frameworks for campaign orchestration, and intuitive marketing dashboards for impact assessment and optimization.
In this last rubric, Optimove released a new Mission Control earlier this year to power the measuring, monitoring, and strategizing of marketing plans at scale.
Next-Gen Technology Roadmap
Optimove's investment in ground-breaking technological advancements was recognized as a strength in this report.
For example, in the future, Optimove will allow to include or exclude a user from a specific campaign in realtime based on a currently active web session. This comes on the heels of last year's evaluation, where both Gartner and customer references recognized Optimove as a growth-focused partner.
Additional Notes
As it is well known, no solution in the market answers every brand's needs. Accordingly, with every Magic Quadrant, next to the three strengths, three cautions are identified for all vendors evaluated. And although, as Gartner says, Optimove is best when implementing data-centric marketing strategies, brand-first companies can also excel with it. For example, Moscot, Huda Beauty, and John Hardy receive great value from Optimove, with the latter increasing its monthly average revenue by 53% using Optimove.
Furthermore, when it comes to website personalization, brands can enjoy the best of both worlds by combining leading personalization platforms such as Dynamic Yield, with a top-notch multichannel marketing hub in Optimove.
Finally, although not all do, clients can stream realtime data from multiple sources, including Kafka Topics, Segment.com, Shopify, and SBTech, in addition to Optimove's SDKs and API.
The data streamed in realtime effectively updates customer data values based on their behavior, which in turn is updating relevant segments based on these changes. In response, these changes are also triggering campaigns.
As you prepare for the second part of 2021 and begin to evaluate solutions that can help you reach your goals (be them customer lifetime value maximization, scaling personalization, or growing through your existing customers), we believe this recognition by Gartner validates Optimove's ability to help you reach and breach your targets.
1 Gartner, "Magic Quadrant for Multichannel Marketing Hubs", Noah Elkin, Benjamin Bloom, Mike McGuire, Joseph Enever, May 10, 2021
2Gartner, "Critical Capabilities for Multichannel Marketing Hubs", Noah Elkin, Benjamin Bloom, Mike McGuire, Joseph Enever, May 10, 2021