Research: New VS Existing Retail Customer Behavior Trends in Times of Corona
Underwear and loungewear, skincare and cosmetics, shoes, and fashion brands – all our findings are here
Even in the digital age, there are still many companies who have historically relied mostly on retail sales. However, as we enter a new era under the effects of the coronavirus, even the most dedicated in-store shoppers and retailers must adjust to this new reality to survive.
The reason is that shoppers are moving to digital in historical rates. The main trend in retail customer behavior we see across the board is a surge in online sales.
What interested us in finding out (this time around) is how the different segments of buyers are changing their shopping habits. So, we analyzed new versus existing customer behaviors and trends across several verticals since the outbreak of coronavirus.
Find it all below.
The Study
We looked at historically predominant retail shoppers with over 75% of their purchases coming from instore shopping and saw that in the second half of March, there was an uptick in their E-comm purchases.
Predominantly E-comm customers have continued to purchase at the same pace (with only a 4% increase), while net new E-comm customers who joined in March have increased by 27%.
If we look at the average daily volume of online orders for the three groups mentioned above, we can see that the surge of retail customers migrating to online purchasing has soared in April, with the daily number of online orders is nearly 300% higher than the daily average in February.
This may be a positive sign for these retailers that seized the opportunity to adapt to the new landscape that COVID-19 has created. Also, the migration rate of retail-only customers to e-comm has tripled compared to previous years.
Underwear & Loungewear
This sector has seen a 22% increase in the ratio of new customers in the second half of March (which is when most of the world has been shut down due to the spread of the virus.)
If we compare April to the first half of March, the surge continues. Loungewear brands saw a 10% AOV increase in new customers in the second half of March, and a 14% increase in April. The increase for existing customers was a lot flatter, up 6% in the second half of March.
Surprisingly, new customers have been using fewer discounts than existing customers, with 58% of new customers using discounts to shop compared to 77% of existing ones. Existing customers' AOV is still 15% higher than new ones, though, which means that they are purchasing more items on average per order (40% more items).
In terms of what they purchased, we can see that while underwear was the predominant category before COVID-19, newly acquired customers have surged towards sweatpants and joggers since WFH. Existing customers continue to purchase the products that they were always purchasing, which were the best-selling products historically.
Skincare & Cosmetics
The ratio of new customers in this sector has soared 25% in the second half of March. If we look at a monthly view, there is a consistent growth in the ratio of new customers. In March, we see an increase of 16% in the ratio of new customers. April is even more impressive, with a 36% increase.
While this acquisition surge is promising, are we acquiring valuable customers? We might answer that post-corona.
In the second half of March, new customers were 49% more likely to purchase with a discount compared to existing customers.
Furthermore, during previous months, the ratio of discounted orders between new and existing customers was equal.
The AOVs of existing customers has dropped a lot more moderately than new customers. In April, AOVs for new customers dropped by 27% compared to early March. For existing customers, AOVs have decreased by 16%.
One more exciting take on the product preferences of new versus existing customers is in the following chart. During March 1st – 15th (pre-WFH) lip products were the best-selling items for a cosmetics retailer, both for existing customers as well as new ones.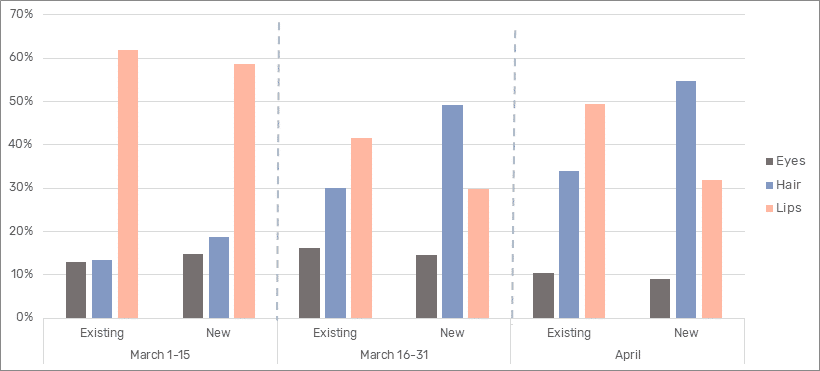 From March 16th and onwards, it is clear to see that there was a shift in preferences toward hair products, especially for new customers.
Although sales of hair products have increased for existing customers month-over-month, lip products remain the items that retained customers, keeping them coming back. While for new customers, the trend has flipped, and the hair products are the focus.
This is another sign for the distinction that needs to be made between existing and new customers across businesses in terms of promotions, marketing and product categorization.
Shoes
As we previously mentioned, who needs shoes when no one's stepping foot outdoors? Surprisingly enough in the shoe sector, discounted orders for new customers have increased by 136% in the second half of March compared to 49% for existing customers.
AOVs have dropped for both new and existing customers in March, especially in the 2nd half of the month, by about 10%. For existing customers, they have returned to their February levels in the first week of April.
However, for new customers, they remain lower than they were in February, confirming that these brands are still attracting more price-sensitive customers than before. Moreover, existing customers are still buying 15% more items on average per order than new customers.
Fashion
While average daily orders dropped by 16% in March from February, new customers orders per day maintained their norm with a 0.5% increase.
Both groups have dropped in April, however, by 10% for new customers and 25% for existing ones compared to February.
Also, fashion brands did not sustain the growth in new customers that skincare saw, for instance. After a 19% increase in March over February, April is showing a similar 18% increase over February.
While fashion brands are seeing an increase in the ratio of new customers, the AOV of a new customer has dropped by 7% while existing customers have shown no drop in value in March and April compared to February.
Both groups have shown increases in basket size (8% for New versus 10.5% for Existing), perhaps due to people wanting to minimize shipping.
Stay tuned for more analysis, and in the meantime, check out our vast Marketing Amid Corona coverage: