Smart CRM Basics: Control Groups in Marketing
This 4-minute video is yet another mini-workshop from Optimove's experts. And this time: a basic, yet crucial, step you need to learn and adapt if you want to know your campaigns' true impact
To understand the true impact of your marketing campaigns, using control groups that represent a group of customers who are excluded from receiving a certain campaign or journey – is a must.
A well-known concern that many brands have is that using control groups means leaving money on the table. That's not true. The numbers prove that the benefits outweigh the perceived downside.
There a plenty of other factors to consider when measuring just how well your campaigns performed. This short video explains the basics of it all and the benefits that control groups offer you as a CRM marketer.
Watch the video or read the transcript below it:
Read more on ending the "Control Groups Leave Money on the Table" conversation >>
What to Consider For an Effective Control Group
A significant percentage of the entire customer segment
A true representation of all the micro-segments in the group
Distinguish between campaigns where you're expecting a particularly low or high response rate to influence the size of your control group
The Benefits of Using Control Groups
Control groups are the only way to really measure the true impact of your campaigns.
Measure the incremental impact of your campaign
Detect changes to customer expectations and behaviors
Eliminate irrelevant offers – if you're sending out a promotion that isn't effective, you're going to want to reduce your marketing resources spent on that promotion
Overcoming the Concerns of Using Control Groups
To a certain degree, there may be some truth about leaving money on the table when using control groups – but there are a few crucial factors you must consider:
Control group size can be minimized in time in referring campaigns (either manually or by using Optimove's Auto-Control – an AI algorithm)
There is no other way to truly measure the impact of your marketing strategy
The benefits exceed the downside (there are too many to list here…)
It Only Takes 3 Occurrences on Average to Reduce Control Group Size!
What we see in the graph below is the number of campaigns required and the control group reeducation percentage after each campaign occurrence.
So, after two campaigns, there is a 0% reduction to the size of the control group whereas after seven campaigns, we see a 1-5% reduction in the size of the control group, and so on.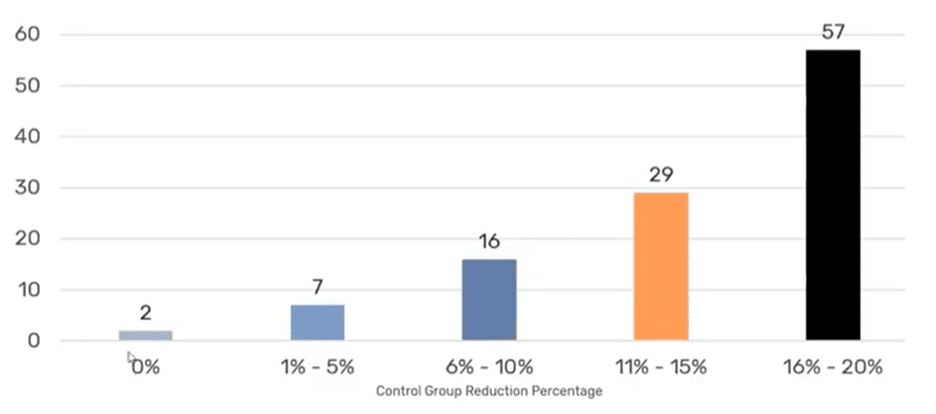 It's simple; using control groups in marketing is the only way to TRULY understand whether the campaign is or isn't working. By shedding light on your campaign results, it becomes much easier to properly plan future CRM campaigns that are successful.
Reach out to learn how you can do it too, and learn the true impact of your campaigns.
Be the first to comment on this post