Optimove 2020 Year in Review
A year of tremendous challenges and of quickly shifting customer behaviors was also a year of incredible relationship marketing work by so many smart CRM teams we're proud to call our partners and clients. Here what 2020 looks like from here, and in hindsight
2020… need we say more? The year that brought with it truly tremendous turmoil. From what the travel, hospitality, live entertainment, and restaurant industries endured (and still are), to the pandemic and social/political unrest's impact on massively shifting consumer behaviors, habits, and preferences. From accelerated digital and cultural transformations that companies had to rush through to other niches with business models and offerings that proved to be better positioned to a new reality.
Whichever the industry, 2020 saw everyone throwing their original yearly plans out the window, and between unexpectedly losing customers to just as unexpectedly gaining new ones – the business-crucial importance of getting to know your new customers while learning the adapted habits of your existing ones became more evident than ever. There is little wonder why, looking at it that way, it was such a milestone year for CRM as a mission-critical business unit.
This is how it looked like from where we sit.
Timeline: what the anecdotes tell us
January: The Self-Optimizing Journey
No two customers are the same, so no two CRM journeys should be the same either. Since late 2019, our Self-Optimizing Journeys have been deployed and tested, under the radar, as part of a Beta launch. Early in 2020, we proudly announced its General Availability after learning that the 80+ brands on the beta launch achieved 37.4x higher uplift per customer.
February: Hello Axonite
By completing the acquisition of Axonite – a leading mission-critical, realtime event streaming solution – Optimove took its customer data platforms to the next level—the realtime level. This acquisition has completed Optimove's data infrastructure, Optidata, providing clients with a future-proof CDP, catering to the ever-growing realtime needs of modern marketers.
March: Marketing Amid Corona
When the pandemic hit, Optimove launched the Marketing Amid Corona daily live stream – where we broadcasted powerful discussions with experts on the changes forced upon the world of CRM (and marketing in general) and adaptations needed in these spaces. Running for 50 business days straight, #MarketingAmidCorona was watched by thousands of marketers, helping them make sense of the marketing content chaos at the time of the COVID-19 outbreak.
April: Welcome Penn National
In 2020, as more and more large companies realized their CRM requires a best-in-class solution, we continued to expand our foothold in the enterprise market with a 40% YoY growth in the number of enterprise-level deals. The Penn National partnership, launched early Q2, was a significant milepost on that route.
May: Server-Side Events
In May, we expanded our event-triggering capabilities to include server-side events. Server-side events can be used in segments to enrich customer profiles as well as to deliver personalized messages that are triggered in response to user activity. For customers who cannot deploy Web or Mobile SDKs, server-side events provide a solution to intelligently orchestrate realtime campaigns.
June: Refined Positioning
Midway through the year, we completed the first primary step of refining our position in the market. After endless brainstorm sessions it hit us. What we do better than any other vendor is helping brands scale their CRM efforts from managing tens to orchestrating hundreds of personalized CRM journeys, maximizing each customer's lifetime value.
July: Vote of Confidence
In a customer survey conducted in July, 80% of Optimove customers said they were either satisfied or very satisfied with its support services, and 85% of respondents said they were satisfied or very satisfied with their CSM. This was an incredible vote of confidence, right when the world was dusting itself off from the first wave of the coronavirus pandemic.
August: Making Marketers' Live A Little Easier, Step by Step
In August, we continued to release capabilities that free marketers from repetitive tasks by enabling the re-evaluation process checking whether customers in a given segment are eligible for a campaign, and whether that specific campaign will generate the highest impact. All of that happens in realtime, just before the campaign is sent.
September: Introducing the Broken Journey
One of Optimove's strongest suits is orchestrating multichannel marketing campaigns to avoid broken journeys – allowing you to create customer-led CRM journeys, instead. Learn more about broken journeys – and how to avoid them – here.
October: Howdy, Partner(s)!
In October, we announced not one but two exciting tech partnerships!
We partnered with Dynamic Yield to combine Optimove's collected data with Dynamic Yield's personalization engine. This empowers our joint clients to quickly deliver seamless and consistent customer experiences throughout all touchpoints.
We also partnered with Attentive, allowing our joint clients to send customers personalized text messages alongside any 1:1 marketing channel while delivering a unified experience across them all.
November: Configure, Edit, Monitor, Delete! (repeat?)
Midway through Q4, we began to allow users to configure, edit, monitor, and delete events directly within Optimove's user interface. This, in addition to campaign triggers. As a result, clients can now easily QA and determine if data is sent to Optimove in realtime, whether it's arriving correctly, and assuring campaigns are triggered as expected.
That month was also a peak point in Optimail's continued growth, with marketers sending an average of 45 million daily emails – a 300% increase compared with 2019.
December: Visual Stream Builder
It's extremely important to analyze your single campaigns, of course. But with our Visual Stream Builder, you can improve the ties and connections between two series of campaigns and the results of an entire series of them, while drastically increasing the scale of your marketing team's efforts and effectiveness.
The Visual Stream Builder allows you to run controlled tests on multiple campaign series to determine which strategies effectively meet long-term business goals.
Stats and Facts: what the numbers tell us
* That's the cumulative amount of customer segments that Optimove clients engaged with. In other words, an average Optimove client manages more than 250 (!) customer segments.
* The cumulative amount of campaigns sent by Optimove clients to their customer segments. That's an average of 3 campaigns served to each segment.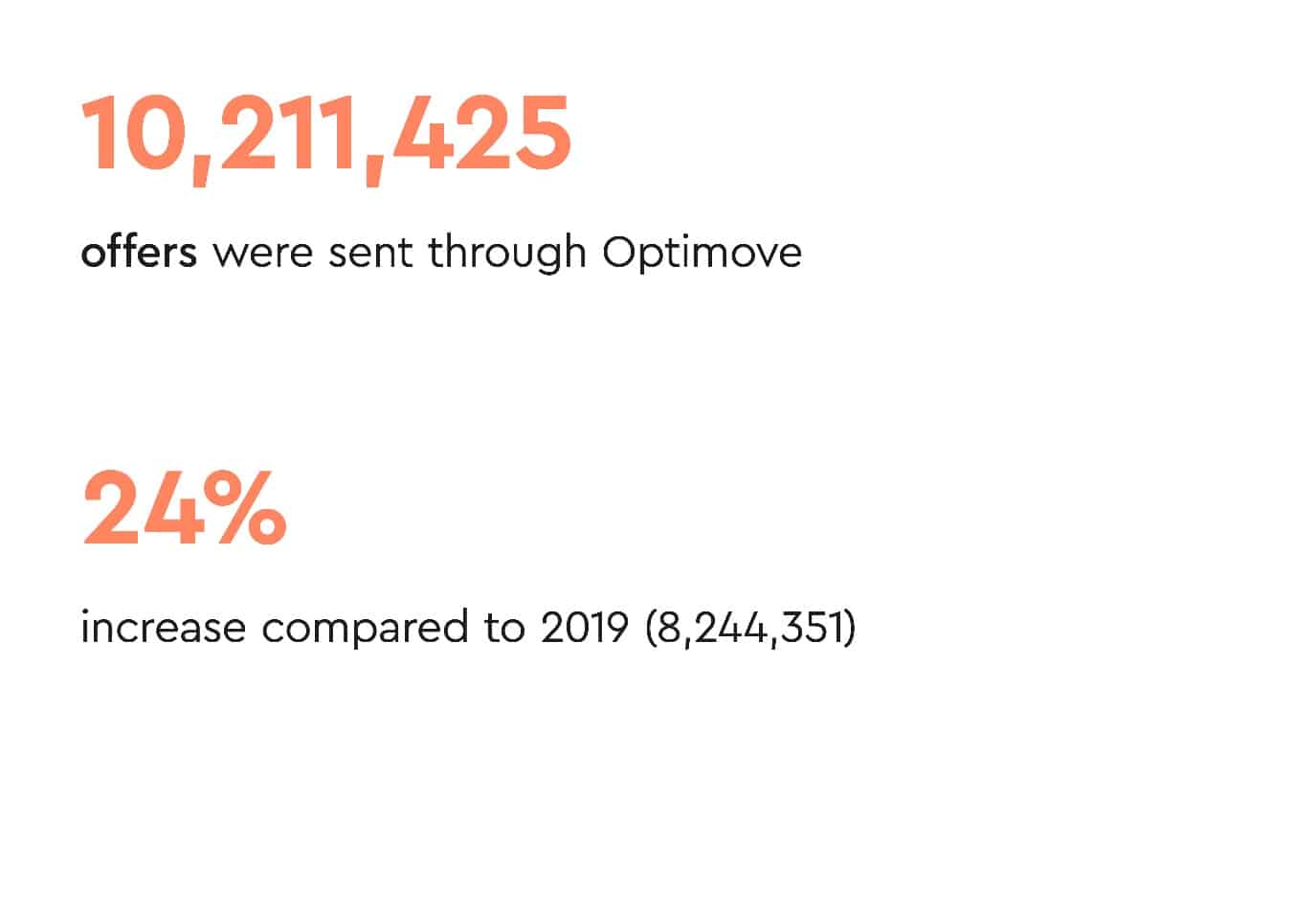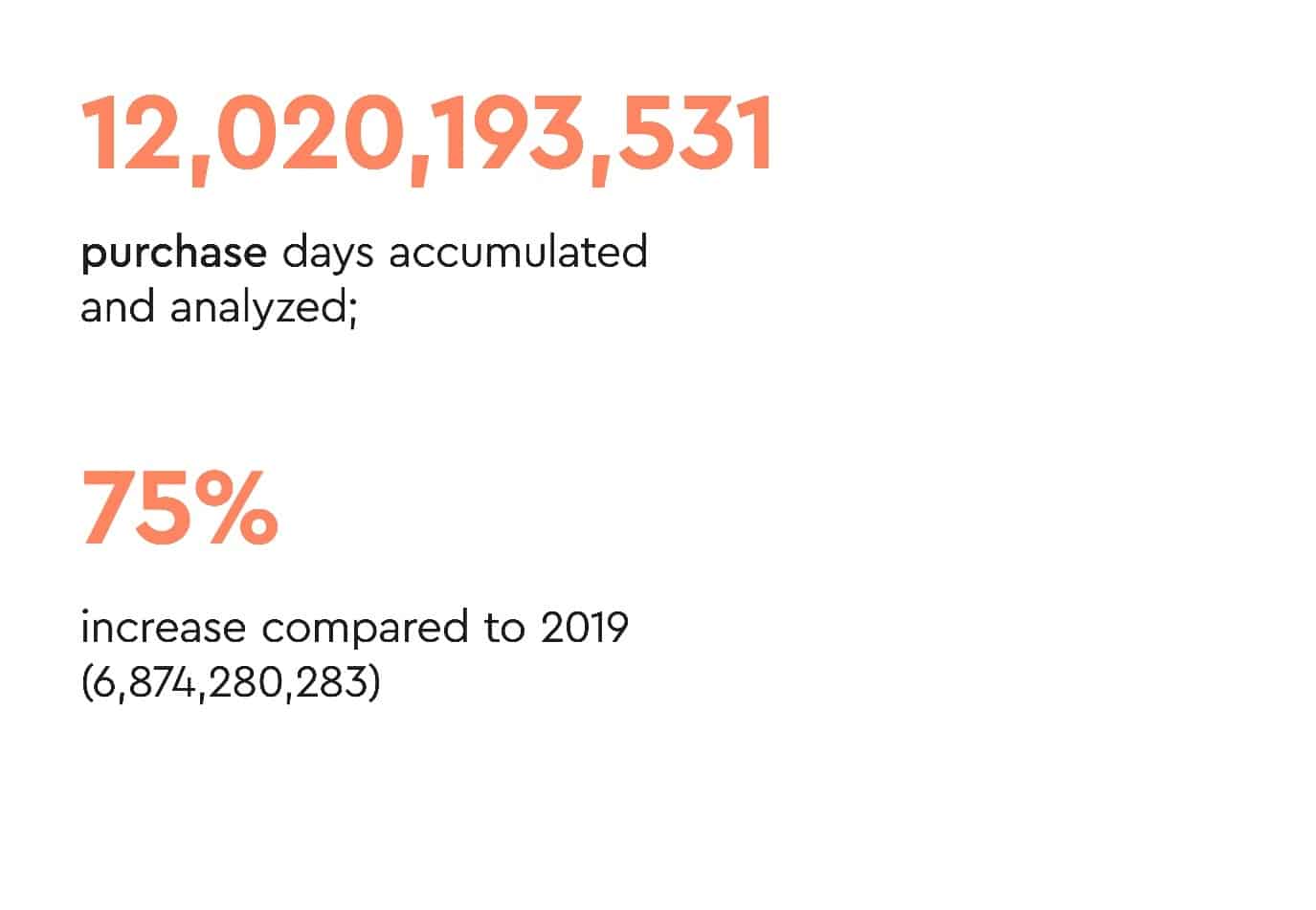 * That's the cumulative amount of personalized messages sent by Optimove clients per major channel. Interestingly enough, it seems as if the summer boycott did not stop Facebook from reoccupying the top spot.
* The average communication frequency with a given segment. 40% of the segments received more than 30 hyper-personalized communications. That's one way personalization at scale looks like.
And now, on to the next one.
Be the first to comment on this post