Get to Know Responsible Gaming Practices That Boost Retention
We need more smart gaming operators that are quick and firm in embracing safer gaming marketing methods. It's a win-win
Gaming operators typically approach player retention by offering bonuses, cross-selling to various products, and encouraging players to increase their activity and betting amount.
However, when it comes to the gaming industry, retention should also include ensuring players do not self-exclude, or worse – develop problematic behaviors that go unnoticed. Crafting responsible gaming marketing strategies can both increase player retention and facilitate healthy gaming habits.
With gaming operators shifting towards a more socially responsible gaming environment and regulators applying heavier scrutiny into operators' activities, it is important operators adjust their marketing strategy and messaging.
Instead of creating player journeys consisting of only promotional campaigns, operators should begin putting a heavier emphasis on educational and informative content that encourages players to adopt healthier behaviors and reduce the number of players who become at-risk.
In the competitive gaming market, where promotions are still an integral part of the experience, operators cannot afford to remove promotional campaigns altogether. However, by segmenting customers into tiers based on their risk levels and adjusting the informative to promotional campaign ratio accordingly, operators can maintain the promotional aspect, and improve their revenue, while instilling stronger socially responsible practices.
These changes require additional metrics to be monitored. If traditional CRM marketing focuses on promotional offers to measure incremental NGR as the main KPI, this new socially responsible marketing mix needs to measure player migrations from one risk level to another and overall retention rates.
To identify the marketing strategies that work best to maintaining a strong level of healthy-player engagement, operators should measure the impact their campaigns have on player behavior over time. Similar to A/B/n testing different treatments, entire journeys (flows) should be tested as well to evaluate how they affect player behavior.
Using Optimove's Streams, operators can easily create entire marketing flows and monitor how players migrate from one risk level to another, and adjust their marketing strategies as necessary. Gaining insight into how both campaigns and flows perform can empower operators to optimize their marketing strategy and reduce the number of players who become at risk.
For instance, one gaming operator segmented their customers into tiers based on their low, medium, and high risk levels. Players with a low-risk level were given the occasional promotional campaign, while players in the medium risk level received 30% of the promotional campaigns as the low-risk level received, and players from the high-risk level received only informative and educational campaigns.
To measure this strategy's performance, the operator evaluated how different marketing campaigns or approaches impacted players' migration from the medium risk level to the low-risk level over time.
For example, using Streams, the operator can test whether, in a messaging mix consisting of informative and promotional campaigns, the order in which the campaigns are sent impacts player migration from one risk level to another, as seen below.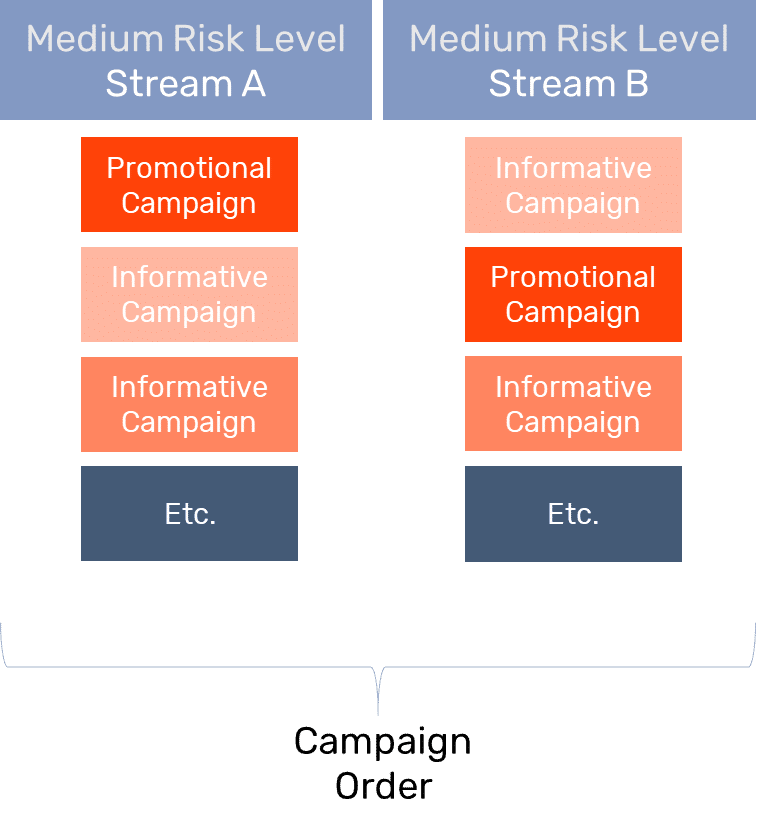 As socially responsible gaming becomes the new norm, operators must do their best to instill and promote healthy gaming behaviors.
Since players tend to respond differently to every approach, measuring the effectiveness of marketing strategies both on the campaign and flow level is crucial for operators that want to help shape their players' behavior.
Be the first to comment on this post