Women in iGaming: A Force to Be Reckoned with
Marketing practitioners take notice: while men are still the majority of players, a new Optimove research reveals that women are more valuable players all-around
Gambling is an activity strongly associated with members of the male persuasion. We tend to believe that men find gambling more appealing than women, that they are more invested in gambling both financially and emotionally, and that their entertainment preferences are skewed towards games of skill.
However, the rise of online casinos has brought with it new trends that are changing the way gender plays out in the gambling space. The anonymity offered by online casinos has removed gender biases, which have constrained women at all levels in brick and mortar casinos. A new research by Optimove reveals surprising metrics about women's share in iGaming – ones that can make a real difference for operators.
Our research spanned 11 leading casino brands based in five European countries: Germany, UK, Italy, Spain and Sweden. We analyzed the activity of 382K customers, and over 9M transactions throughout 2016.
According to our data, throughout the gaming population, women make up 28% of registered players, with some variations between countries: Sweden boasts the highest percentage of female iGamers with 32% – a third of all participants – followed by the UK (30%), Italy (21%), Germany (20%) and Spain (18%).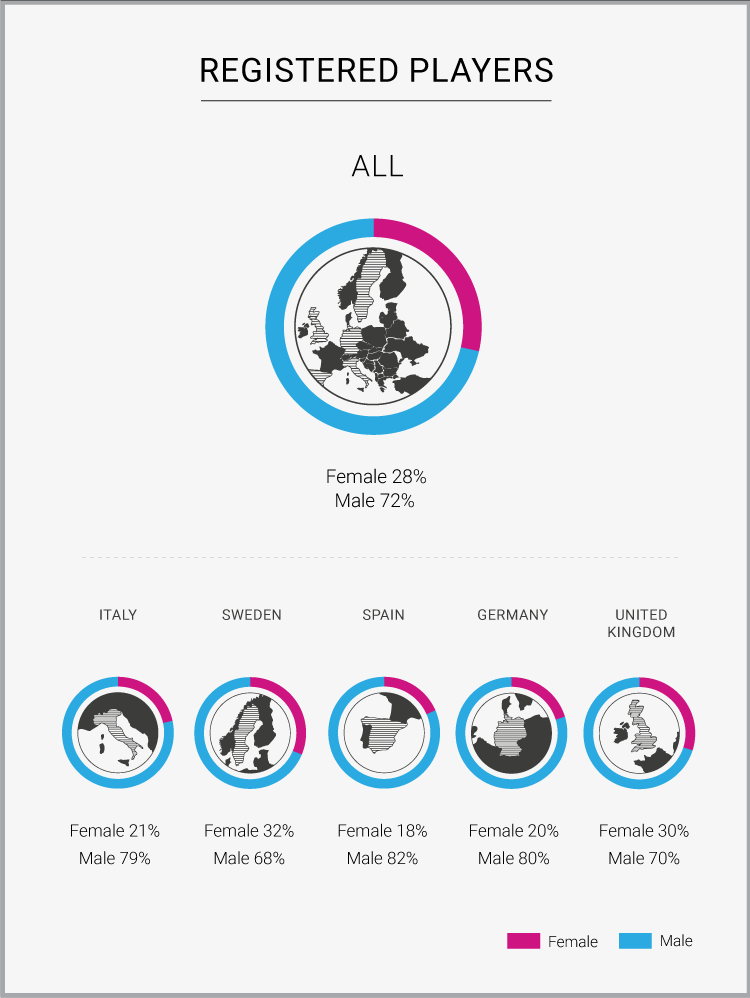 Women's deposit behavior differs to that of men's in terms of frequency and sum. Women deposit more frequently, but in smaller amounts. The yearly average number of deposits for women is 32.3 compared to 19.4 for men, but their average deposit amount is €38.76 to men's €54.14. However, when looking at the yearly average deposit amount, women outplay men considerably with an annual deposit of €1,143, to men's €940.
Women's GGR and total bet amount are also higher than men's. The average annual GGR is €604 for women to €546 for men, and their average total bet amount peaks at €12,395, compared to €10,630 for men.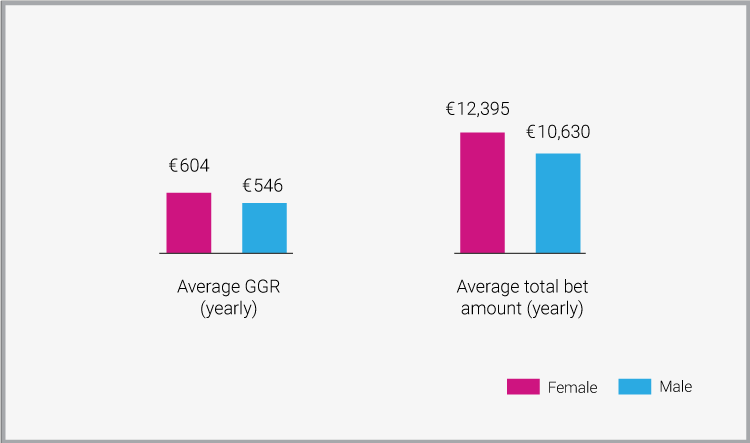 Looking at gaming behavior, women engage with iGaming on mobile more frequently than men do: 59% of their bets are made on mobile, compared to 52% for men. They also stick longer with the brand: survival rate for the first four months following registration is 19% for women for month 2 (compared to 17% for men), 14% for month 3 (compared to 12% for men), and 11% for month 4 (compared to 9% for men).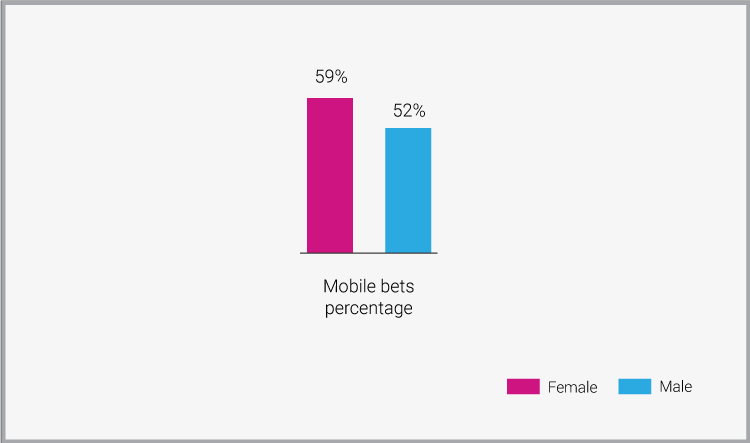 Game preferences has always been considered an area where gender differences reign. The industry is governed by the idea that men mainly opt for skill games such as poker and blackjack, whereas women look for entertainment in the form of games of chance, specifically slots. This is another area where the gaps are closing. We've found that while women do play more slots, they don't do so overwhelmingly more than men. While men devote 30% of their wager amount to games of skill and 70% of deposits are wagered on slots and roulette, women play skill games with 22% of their wager amount, and devote 78% of wagers to games of chance: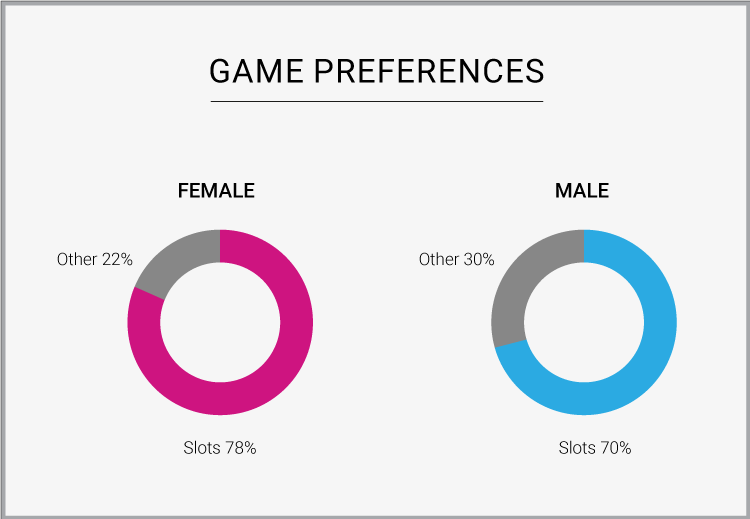 The most surprising finding of this research, however, is women's place within iGaming VIPs. Parsing the top 1% of depositors reveals that women make up more than a third of iGaming VIPs – 34% – a larger percentage than their distribution in the database, which is 28%. This means that women become VIPs more often than men do.
Get to Know your Female Players
For the past couple of years, the industry, in parts, has been gearing itself towards women, with some houses undertaking a complete makeover and introducing new designs and advertising strategies. The décor of online casinos has changed as to not insult women or make them feel excluded. Some operators have produced gaming environments to entice both men and women to engage in activities they are less inclined to turn to naturally. For example, in some cases slots have gone from rainbows and unicorns to Marvel themed environments, while poker and blackjack tables adopted less masculine themes. The growing monetary weight of women players is sure to take this trend forward.
But the look and feel of online casinos is only the tip of the iceberg. In order to positively engage women, operators need to take a deep look into their player database, learn about the wants and needs of their female players and communicate with them in an emotionally intelligent manner that will increase their loyalty and participation, and recognize their value as players and their important part for the online casino industry.
Be the first to comment on this post