In with the Old: Why Brands Should Aim for a Low Ratio of New Customers
Most B2C companies are bullish on branding and/or acquisition. The smartest ones, though, balance these efforts with taking CRM Marketing strategically seriously. The numbers below show why you should, too
Out with the old, in with the new! Sounds like some fashion brand's motto? Might be. One thing's for sure – when talking about customers, it's a horrible strategy for brands, even for the wealthiest amongst them.
See, brands that are great at spending money on acquisition and are getting lots of people to buy with them in the first place – will not be able to make the next leap in revenue and ROI unless they learn how to keep these customers coming back.
You might think it's simple math, right? If your top-to-bottom overall CAC is $1, your average first purchase is 90 cents, and all your customers buy with you just one time – you're obviously losing money. Getting just 1 in 3 to buy with you again, and you will already leap your brand into profitability (by increasing your average customer lifetime value 33% from $0.9 to $1.2).
But, as evident as it may sound, too many brands still do not do CRM/Relationship Marketing well enough, not to mention those that deprioritize it intentionally. But whether they do it because the brand's leadership doesn't find CRM to be as sexy as advertising and branding, or they do it just because they're stuck behind technologically – the result is the same: their customers suffer from bad post-purchase experiences. And the brand suffers from low customer lifetime value, seeing its acquisition funnel leaking customers like water out of a strainer.
We know, and have the research to back it up, that optimizing your customer lifetime value by turning first-timers into repeat-purchasers and reaching the ideal new-to-existing customer ratio –is maybe the one thing all successful brands have in common.
So, today, we want to share some new and exciting findings that for sure will convert even the most stubborn, old-fashioned marketers and turn them into the biggest retention, loyalty, segmentation, and predictive customer models advocates in the marketsphere!
In vast research done by Orianne Shcolnik from our Strategic Services team, that included dozens of Optimove clients – all are B2C brands, of course, either in different kinds of Retail or in Gaming – and spanned across two full years of data, we compared the performance of "High Ratio" and "Low Ratio" brands.
High Ratio (HR): meaning, companies with a relatively high ratio of new customers (17%-20% of customers who made a transaction during 2019 were "new")
Those are the ones that are leaking.
Low Ratio (LR): meaning, companies with a relatively low ratio of new customers (only 2%-3% of customers who made a transaction during 2019 were "new")
Those are the ones that keep their existing customers active for longer.
That way, we wanted to see if there are any differences in the way HR and LR companies performed in 2020 – compared to 2019. And oh boy, the differences we've found.
For example, while companies with High Ratio of new customers have had their number of customers from 2019 to 2020 more than doubled (a growth partially attributed to the relative ease of acquiring new customers for online services during Covid lockdowns), their monthly revenue has only increased by 6%, compared to LR companies – which saw a whopping 67% increase in revenue, even though their "new customers" only grew 39%.
Yes, LR companies grew their revenue faster – with relatively fewer new customers.
Additionally, customers' Future Value for HR companies DECREASED 49% from year A to year B and grew 41% for LR brands!
(Imagine Chandler Bing from Friends' voice) Could the numbers BE any more decisive??
Brands that do CRM Marketing better and are keeping a healthier ratio of new-to-existing customers grow their revenue faster than brands with a lower percentage of existing customers – EVEN if the latter is gaining more new customers more quickly. Read that again, and now try not to let it blow your mind.
Still, as much as these results are one-sided, they do not surprise us here at Optimove. When you take into account the superior personalization that CRM Marketing campaigns allow you, the less costly channels it uses (email, text, push, mostly), and the 5-10 times better ROI of CRM campaigns compared to acquisition campaigns, the results we see above just make sense.
Additionally, in this new research, we also looked at the Average Monthly Activity Days (that is days with a transaction) of New vs. Existing customers. Just to really give another twist to the cap.
The result – showing that existing customers have 29.5% more activity days in month X+1 than new customers – provide another explanation of the fantastic revenue performance of low-ratio companies.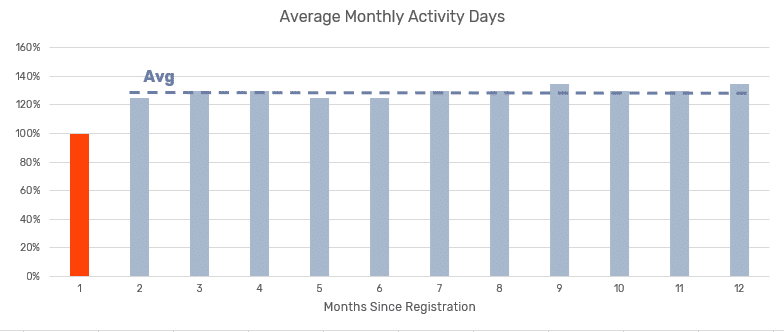 And so, even though we wrote more than 700 words on this blog post so far, we think it's safe to say: the numbers, actually, speak for themselves.
Now, we know that CRM Marketing requires sophistication, a science-first, data-driven approach, and the proper knowledge and technology to scale appropriately. And for some behind-the-curve brands, that's quite a leap.
But in a world where customer acquisition costs are continually rising and where out-with-the-old-in-with-the-new is a dying trend even in fashion (sustainability rules!), growing through your existing customers can be nothing short of a business-transforming investment. Not to mention that a better post-purchase experience is something you owe to your customers.
Be the first to comment on this post