Here's One More Thing That the Best Performing CRM Teams Have in Common
To extract business-changing growth from your existing customers, you need to scale your CRM processes, automate more, reach more customers, and do it in a way that leaves you enough time to craft fantastic offers and campaign creative. Optimove's Strategic Services team is the one not-so-secret weapon that can take you there
A couple of weeks ago, I learned – through a TikTok video – that when you make a sunny side up-style egg, you can break it just by dropping it straight onto the pan from about 30 cm (one foot) up. You drop it, it cracks, you pick up the shell. That's it.
No muss, no fuss.
You see, sometimes, all it takes to achieve an incremental improvement is a bit of a creative, outside-the-box approach. But, then again, sometimes your uplift potential is kinda limited. In the end, it's the same cooked egg.
Do MORE with What You Got (i.e. Your Customers)
That's not the case with Relationship Marketing. Here, external expertise is not just nice to have. The business growth potential that lies in doing more with your existing customers is so extensive that the proper advice/guidance can significantly impact your business.
That's why Optimove's Strategic Services team is one of the busiest, impactful, strategic, and in-demand teams we got around here.
Optimove's Strategic Services team provides customized data-driven customer marketing and monetization strategies. The team accumulates more than 3000 monthly hours of CRM Marketing experience and helps its clients achieve a 55% higher marketing contribution to revenue.
In 2020, Optimove's Strategic Services team worked with 41% more clients than in 2019, wrote 76% more reports, and accumulated almost 40,000 (!) hours of human work – every minute of it dedicated to extracting more valuable insights and sharing them with clients. That's partially why no less than 80% of the Optimove clients that worked with our Strategic Services team said they were either Very Satisfied or Satisfied with the service and results.
Another part of what makes these clients so happy is how they outperform their competitors and that roughly 1 in 2 can attribute at least 5% of their entire revenue directly to their Strategic Services-supported CRM work.
Overall, Optimove clients who worked with the Strategic Services team showed a live-coverage rate 8% higher than clients who did not (meaning: how many of their customers they reach/communicate with).
Such improved performance is only achievable if you can scale your CRM work – which is one more area where the Strategic Services team is making the lives of marketing and CRM teams easier – helping them reach almost 90% of "recurring campaigns" (meaning: less manual work, more automated campaigns).
Relieving a Universal Pain
Additionally, this comes as more and more marketers have a hard time facing the everyday task of managing something with way more moving parts than cooking an egg – their marketing tech stack.
According to Gartner's "2020 Marketing Technology Survey: Cost Pressures Force Martech Optimization and Innovation" report (requires subscription), "68% of respondents face challenges with utilizing their stacks' full breadth of capabilities, investing in tools and add-on capabilities that ultimately go unused."
That's a lot. And it mostly has very little to do with having too many technologies or outdated solutions.
According to the report, "When it comes to utilization, success hinges less on the actual technologies selected and more on the people and processes involved. Respondents cite a series of impediments standing in their way of increasing martech utilization, many of which are people- or process-related (see Figure 5 below)."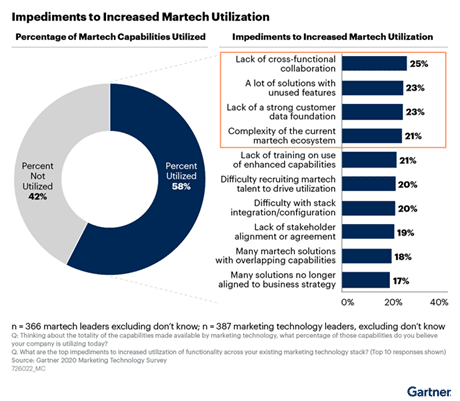 On top of these issues, "teams are still struggling with securing qualified talent to fulfill their martech needs in 2020," says the report, "While 80% of respondents have identified a need for additional martech staff, 73% struggle to recruit qualified martech candidates. Ultimately, people and their ability to work together is the key differentiator to realizing greater business impact, because utilization of technology, not merely its acquisition, is essential for greater levels of martech effectiveness."
Having the Optimove Services team on your side eases this specific "talent" pain, too. And overall, it's easy to say that the team's focus is very much aligned with the issues cited in the Gartner report.
Difference Makers
Optimove's Strategic Services team brings all of this to the table with the industry-unique perspective that comes from working with dozens and dozens of brands from the two primary CRM industries: Retail and Gaming. The ability to offer cross-industries, global benchmarking is an added value very few can offer.
"The Optimove team has made my life easy in a year that wasn't easy," said Liz Owens, VP of Marketing at Paper Source, adding that "the services team is a dream". "I personally want to express my gratitude for their service. They excellently deliver and execute, and their contribution to achieving our goals cannot be appreciated enough," added Beate Pfeiffer, CRM lead at Funstage. (did you notice how the two speakers here represent both retail and gaming? Coincidence? I think not)
From delivering tailor-made CRM strategy recommendations (including the email warm-up and deliverability services), to creating bespoke modeling and analyses. From providing implementation support to keeping close contact with the clients via weekly calls and Executive Business Reviews. And all the way to delivering a constant feedback-loop 360 reviews of previous work and potential future work – our Strategic Services team is undoubtedly a significant reason Optimove clients love us. And that's even before they added the egg trick to their PowerPoint presentation. That's a real life-changer.