The Power of Cross-Sell for Gaming Operators
Why is cross-sell so important in the gaming industry? How do you use cross-sell? And, when? These are all common questions for gaming operators, and today we're diving deep into the answers
Many online gaming brands offer more than one product to their players, where a player placing sports bets can just as easily play a variety of casino games on the same platform, using the same account. But what's in it for the operators? Well, it depends on how they play the cards they are dealt.
Cross-selling offers great potential. Gaming operators surely have a lot to gain. However, it's important to understand the potential pitfalls, when it makes sense to use it, along with how to take advantage of a recommendation model.
So, without further ado, let us show you how it's done.
Unlocking the Power of Cross-Selling: A Deep Dive Analysis
Average Future Value
We looked at one of our top gaming brands, which offers both sports betting and casino games, to understand the difference between the following segments: active sports players, active casino players, and active multi-players.
We found that casino players' future value is 36% higher than sports players. But it is the multi-players who have the highest average future value. 50% higher than sports players on average!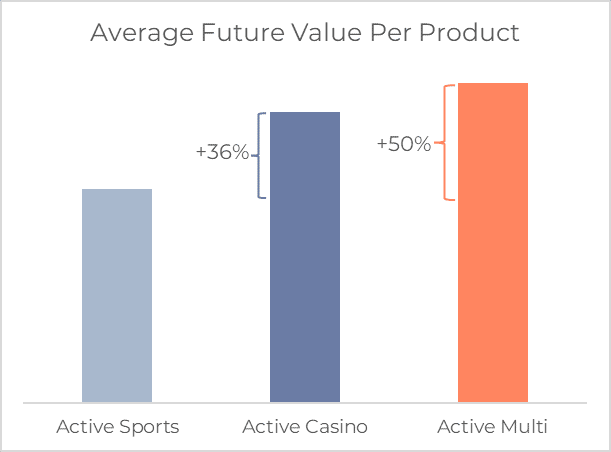 As well as delivering greater value, cross-selling also instills an additional sense of loyalty in players. It provides players with more options and a well-rounded gaming experience.
Retention Rates
We checked the retention rates of sports and casino players and found that casino players who played at least one sports game have higher retention rates than casino players who never played sports games. The trend looks similar in sports players who played at least one casino game, as data shows they also have higher retention rates.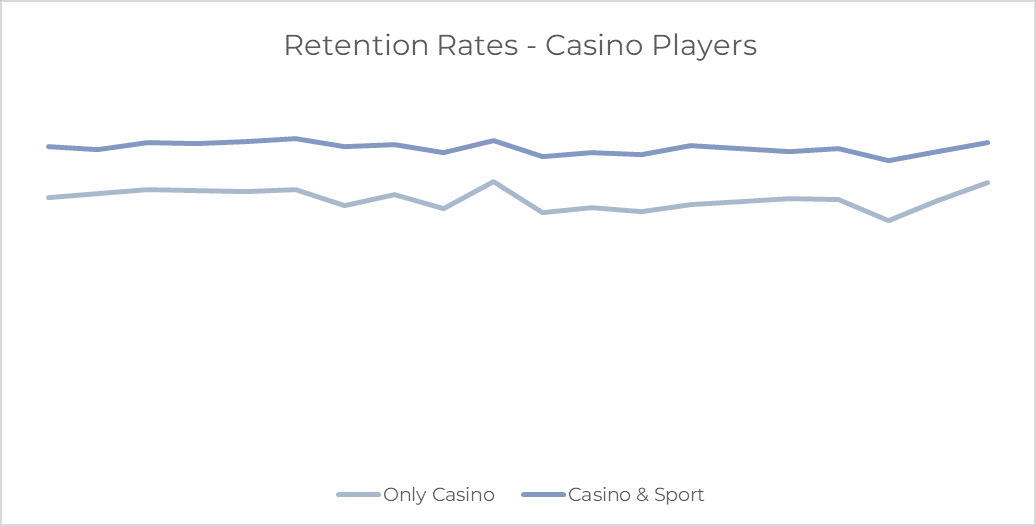 So, what can you learn from this? It's simple, when a casino player plays at least one sports game or when a sports player plays at least one casino game, they are considered multi-players and are likely to stick around longer with your brand and deliver higher LTV.
You want to try to send out cross-sell campaigns to create even more of these players. But how do you do it?
Maximizing Revenue Through Targeted Cross-Selling Strategies
Here are our suggestions for you:
Option #1 – Basic Cross-Sell
As a general strategy, you can send casino offers and promotions to sports players and vice versa. This introduces the different products to each player type and encourages them to try different games. It will also ensure that if they are curious to try out other products, they will do so with your brand, and keep them from going to other vendors.
Here's an example of an email to send out to sports players:
Option #2 – Intermediate Cross-Sell
To take your cross-sell initiatives to the next level, specific cross-sell campaigns can be created by analyzing your customers' previous data. This will allow you to send out more personalized offers to specific player segments and can increase the effectiveness of your cross-selling efforts.
For example, when data shows that most tennis players also play roulette, you can target your new tennis players with a roulette campaign.
Option #3 – Advanced Cross-Sell
The most advanced cross-selling option is to create a dynamic model based on data that updates daily. At Optimove, an automatic recommendation model is used to allow operators to target customers with offers that are most likely to be of interest to them based on their recent behavior.
Using historical data to create personalized offers, you can send players relevant product recommendations based on their recent activity. This has been proven to be incredibly effective!
Furthermore, Optimove's automatic campaign recommendation model knows when a player will like a particular game according to multiple attributes that are automatically calculated daily. You can use this model to send players a list of 3-5 recommended games that are updated on a daily basis to send the most personalized cross-sell campaigns to all your players.
So, whether you're ready to try the basic, intermediate, or advanced cross-sell option – each approach is definitely a powerful tool to add to your marketing arsenal.
Still not convinced that cross-sell campaigns are the way to go? See for yourself just how significant the uplift can be.