Elevating Personalization: Optimizing Journey Orchestration with Integrated Customer Data Platforms (CDPs) and Multichannel Marketing Hubs 
A report on Marketing Fatigue and the disconnect between consumer and brands in marketing messages
In this post, we explore the correlation between consumer demands for personalization and relevancy in marketing from brands, along with the challenges marketers face in leveraging first and zero-party data to deliver marketing communications that establish a personal connection with consumers.

Table of Contents
Part 1: Overview
Part 2: Detailed Survey Results
Part 3: How Marketers Can Close the Gap

About the Report

About Optimove
Part 1: Overview
Consumers' Desire for Personalization:
Consumers' Desire for Personalization: An examination of select consumer surveys conducted in 2022 and 2023 highlights the ongoing concern of Marketing Fatigue among consumers. Notably, over 70% of consumers place value on personalization when shopping online, as evidenced by findings from our February 2023 Marketing Fatigue Survey and our July 2023 Holiday Shopping Survey. In a world where there is a disconnect between consumers and brands in marketing messages, the need for personalized experiences is more apparent than ever.
Further, the role of relevancy in driving consumer engagement with marketing content is unmistakable. Consumers indicate that the relevance of a message significantly influences their decision to open an email from a brand. Moreover, 72% consider relevancy to be a crucial factor when assessing offers from brands, with 14% considering it "very important." In our work with hundreds of major B2C brands, we have observed that relevance plays a pivotal role in enhancing customer engagement across diverse industries such as finance, retail, and gaming.
Marketers' Conundrum: Analyzing First and Zero-Party Data:
While consumers eagerly seek relevant experiences, marketers grapple with the intricacies of analyzing first and zero-party data to deliver real-time relevant messaging to meet these expectations.
The data-rich landscape holds the key to unlocking unparalleled personalization potential. However, challenges persist. Almost half (49%) of marketers lack a strategy for collecting zero-party data, and 42% lack strategies for first-party data. While progress is being made, only 17% claim full execution of zero-party data strategies and 22% for first-party data. With that said, according to McKinsey, a key strategy advertisers are using involves their own consumer touchpoints to collect first-party data – the catalyst is the demise of third-party cookies and restrictions on using mobile-device identifiers for ad targeting.
The lack of insights from these data sources is akin to a compass-less journey. Without a comprehensive understanding of each consumer's desires, marketers struggle to craft truly personalized interactions that resonate. This deficiency results in marketing mistakes, such as excessive messaging leading to Marketing Fatigue and conflicting promotions across different channels.
The Imperative for Synergy:
As consumers expect personalization, marketers hold the potential to fulfill these desires through effective analysis of first and zero-party data. Bridging this gap between consumer expectations and marketer challenges is paramount. It is the harmony of these efforts that leads to successful engagement, loyalty, and enduring brand-consumer relationships.
By capitalizing on the insights within first and zero-party data, marketers can craft experiences that consumers genuinely appreciate. This, in turn, will alleviate Marketing Fatigue, enable relevancy, and result in a more profound connection between brands and their audiences.
In essence, this report reveals that consumers do experience Marketing Fatigue. Fatigue is caused by a volume of irrelevant messages. To eliminate Marketing Fatigue, brands must start marketing with customer data and deliver messages that are relevant and personalized to provide exactly what the customer needs.
Part 2: Detailed Survey Results
This section includes results of select consumer surveys in 2022 and 2023, and a 2023 survey of top marketers at B2C brands.
A. Consumer Survey Results
Marketing Fatigue: The evidence substantiates that Marketing Fatigue remains a pressing issue, affecting consumers' interactions with brands. The results of our February 2023 Marketing Fatigue Survey, our July 2023 Holiday Shopping Survey and Financial Services Provides Survey underscore a consistent trend: a significant majority of consumers, about seven in ten, value personalization when shopping online.
Marketing Fatigue is a Persistent Concern: Our analyses reveal that Marketing Fatigue remains an ongoing challenge for 70%+ of consumers. Across four surveys spanning the period from the end of 2022 (Trust Survey) to May 2023 (Back to School Shopping Survey), a consistent theme emerges: consumers regularly unsubscribe from brands due to excessive or irrelevant messages, perpetuating the issue of Marketing Fatigue. In this scenario, addressing Marketing Fatigue requires a deeper understanding of individual preferences.
Relevancy as a Key Driver: Relevancy emerges as a defining factor in consumer interactions with marketing content. Our findings illuminate that relevancy is the primary motivator for consumers to open marketing emails from brands. Moreover, seventy-two percent (72%) of respondents acknowledge the importance of relevancy when evaluating offers from brands, with 14% rating it as "very important."
Consumer Demand for Fewer Messages: Consumers signal a desire for a reduction in marketing messages, with a combined 66% (39% + 27%) expressing a preference for decreased volume. Alarmingly, 27% of respondents feel inundated by marketing messages, underscoring the urgency for refined targeting. Overall, a significant 73% of consumers indicate a preference for fewer marketing communications.
B. Survey Results of Marketers
Marketers increase digital marketing spend, especially for scaling personalization
Most B2C marketers are increasing investments for specific digital marketing strategies. Increased investments are earmarked for 1) scaling personalization, 2) unifying customer data, 3) AI-based marketing automation, and 4) multi-channel orchestration. This aligns with marketers' need to deliver a highly personalized customer experience to improve customer retention and maximize lifetime value.
Reaching/identifying relevant customers remains a top challenge
Respondents ranked the top two challenges in acquisition marketing as 1) reaching relevant customers, and 2) delivering personalized experiences to top prospects.
In addition, respondents noted the top challenge in retention marketing is identifying valuable customers to invest in.
Executing first- and zero-party data strategies remains a challenge
Having deep real-time insights on first- and zero-party data is at the core of truly knowing the customer.
Yet. almost half of marketers (49%) do not have a strategy in place for collecting zero-party data. Similarly, forty-two percent (42%) do not have strategies for first-party data. While more have some strategies in place, just 17% of respondents say they have fully executed strategies for zero-party data, and 22% for first party data.
Lack of first- and zero-party data insights is the root cause of marketing mistakes
Respondents noted the top marketing mistakes in customer outreach that have a negative impact on the brand are the following:
Too many messages causing marketing fatigue.
Conflicting messages and promotions across different channels.
Most marketers are aware that they may have inconsistent messaging to consumers
At the same time, at least 91% of marketing executives are at least somewhat aware of possible inconsistent messaging or cross-firing campaigns and promotions. 84% of marketers are at least somewhat worried about the possible inconsistencies – with 18% extremely worried.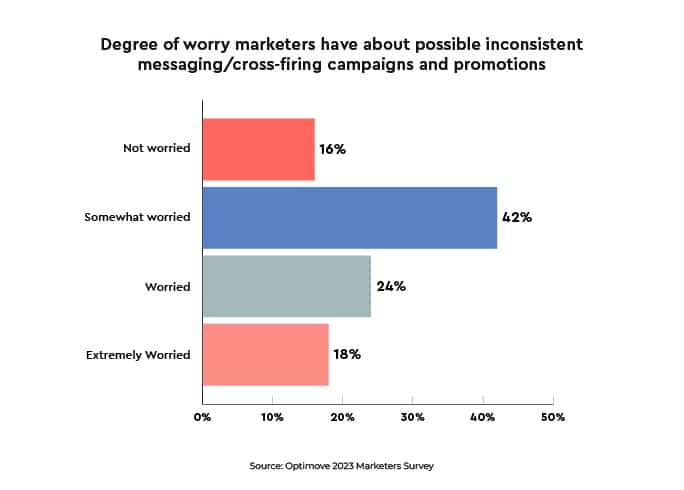 Planned tech changes to improve the personal experience
Most marketers, ninety-two percent (92%), are planning to, or have, increased the percentage of their automated marketing campaigns to deliver more relevant, personalized messages.
The top automation technologies that marketers plan to implement in the next year include marketing analytics/multitouch attribution, mobile marketing platform, multichannel marketing hub, and website personalization.
In addition, top technologies targeted for upgrades/replacements include the following:
1. Loyalty platform
2. Mobile marketing platform,
3. Website personalization engine.
4. Marketing analytics/multitouch attribution.
Part 3: How Marketers Can Close the Gap
Elevating Personalization with Customer Journey Orchestration: Enhancing Experiences and Eliminating Marketing Fatigue
Elevating Personalization: Optimizing Journey Orchestration with Integrated Customer Data Platforms (CDPs) and Multichannel Marketing Hubs. Fundamentally, every marketing endeavor must begin with a deep understanding of the customer. And marketing must start with the customer. If brands navigate the complex realm of analyzing first and zero-party data for crafting precise and pertinent messages, marketers can harness the capabilities of an actionable Customer Data Platform (CDP) and seamlessly integrate data with a multichannel marketing hub. In this context the synergy between data, technology, and consumer expectations becomes crucial.
The resulting journey orchestration enables marketers to comprehensively understand, design, and intervene in the intricate customer journeys that span across multiple channels and touchpoints. In doing so, brands create seamless and personalized experiences for customers, ensuring they receive relevant messages and interactions that align with their preferences and needs.
Below are key steps to ensure successful journey orchestration and abate Marketing Fatigue – and replace it with deep connections.
Driving Deep Connections with Customers through Journey Orchestration
Step 1: Understand the Essence of Journey Orchestration
Define Journey Orchestration: Gain a clear understanding of journey orchestration as a strategy to comprehensively understand, design, and guide customer journeys across multiple touchpoints.
Step 2: Lay the Foundation with a Customer Data Platform (CDP)
Integrate CDP: Implement a CDP to create a centralized repository for collecting, structuring, and analyzing customer data from various interactions and sources.
Utilize Zero- and First-Party Data: Leverage zero-party data (customer-provided preferences) and first-party data (customer interactions) to build accurate customer profiles.
Step 3: Set Up a Multichannel Marketing Hub
Implement Multichannel Hub: Establish a multichannel marketing hub as the control center to manage and deliver consistent marketing messages across various channels.
Ensure Cohesion: Maintain consistent messaging and branding across all customer touchpoints.
Optimal results are achieved when a Customer Data Platform (CDP) and a Multi-Channel Marketing Hub (MMH) are co-developed and seamlessly integrated right from inception, eliminating possible software incompatibility.
Step 4: Embrace AI Insights for Personalization
Leverage AI-Powered Insights: Utilize AI to analyze customer data from the CDP, revealing patterns, behaviors, and preferences that inform personalization strategies.
Data Synthesis: Allow AI to synthesize data from various sources to create holistic customer profiles.
Real-Time Personalization: Leverage AI's capabilities to create personalized and relevant messages in real time.
Step 5: Harness the Power of Zero- and First-Party Data
Zero-Party Data Integration: Incorporate explicit customer preferences and intentions to enhance personalization accuracy.
First-Party Data Utilization: Utilize insights from customer interactions with your brand's channels to gain deeper insights into their behaviors and preferences.
Step 6: Craft Personalized Marketing Messages
Segmentation and Precision: Create customer segments based on shared attributes and behaviors using insights from AI and zero- and first-party data.
Relevance and Timeliness: Ensure marketing messages are relevant and timely by leveraging AI insights and customer data.
Step 7: Ensure Real-Time Adaptation
Real-Time Insights: Utilize AI's real-time analysis to adapt marketing strategies swiftly based on changing customer behaviors and preferences.
Tailored Engagement: Engage customers with content that aligns with their interests at the right moment.
Step 8: Foster Deep Customer Connections
Enhanced Customer Understanding: Leverage insights from the CDP, AI, and zero- and first-party data to tailor marketing strategies for individual customers.
Consistency Across Channels: Maintain consistent messaging and branding across all platforms to reinforce brand identity.
Step 9: Elevate Engagement and Conversion Rates
Higher Engagement: Deliver personalized messages enriched with zero- and first-party data to increase customer engagement rates.
Improved Conversion: Boost conversion rates by providing relevant and timely interactions guided by AI insights.
Step 10: Continuous Improvement and Iteration
Iterative Approach: Recognize journey orchestration as an ongoing process, continuously analyzing customer data and refining strategies.
Feedback Loop: Use insights from the CDP, AI, and zero- and first-party data to refine campaigns and optimize marketing efforts over time.
With Journey Orchestration, marketing teams can effectively drive deep connections with customers by harnessing, CDP integration, multichannel marketing, AI insights, and zero- and first-party customer data. This data-driven approach ensures personalized, relevant, and timely interactions that resonate with customers and foster enduring brand-consumer relationships, with the added benefit of AI creating personalized and relevant messages in real time.
While marketers are investing in technology to eliminate Marketing Fatigue, the challenge is creating a well-oiled customer centric marketing machine. The starting point is the customer. In doing so, brands and consumers will be coming from the same place – the consumer's desires.
For more on Journey Orchestration, go here: Orchestrating personalized customer journeys: No two customers are the same, so no two journeys should be the same either. 
To learn more, read our Methodologies of Marketing Orchestration – Part I, Part II, and Part III.
About the Report
The report was based on results from Optimove surveys in 2022 through July 2023. These included the following reports: The Optimove Holiday Survey, The Optimove B2C Marketer's Survey, The Optimove Back to School Survey, The Optimove Summer Shopping Survey, The Optimove Marketing Fatigue Survey, and The Optimove Trust Survey. The surveys were designed by Optimove and fielded by Survey Monkey. Respondents included executives at B2C companies, and US consumers with HH incomes exceeding $75,000.