Consumers Feel Bombarded by Messages, Optimove Marketing Fatigue Survey Reveals
Do consumers feel overwhelmed by marketing messages? Do they intensely dislike cold, random emails? Will they reward relevancy? According to our 2023 Consumer Marketing Fatigue Survey, the answer is "Yes to all." Marketers are more invasive than helpful, consumers say and should think twice before getting in touch. What else did they say?
Do you often roll your eyes upon receiving another "Sunday Funday" email from some brand? Do you sometimes wish an "unsubscribe from all" button was embedded in your Gmail? If so, you might be suffering from marketing fatigue. 
Marketing fatigue happens when consumers become overwhelmed or disengaged with marketing messages due to the volume or repetition of advertising. It is the feeling of being bombarded with too much marketing content that is often irrelevant or uninteresting, leading to a decrease in response rates or engagement. 
For brands, needless to say, but we will, this is not good. It can make consumers more skeptical or even annoyed by marketing messages, causing them to tune out or disengage from future marketing efforts. 
As you might have noticed, we don't like to leave these burning issues up in the air or merely speculate. We put things to the test or, at least, ask consumers directly for their opinions (as we did around Holiday Shopping and Consumer Trust).
So, we surveyed 450 US consumers in January 2023 about marketing fatigue and bottom line. They're close to the edge, which means before you hit that send, you should consider two questions – is this communication relevant to this person's life? Is it tailored to their needs and preferences? If it isn't, you might as well be howling at the moon.
Let's look at some of the findings, shall we?
Consumers feel bombarded by marketing messages
Two-thirds of consumers (66%) want fewer marketing messages, and 27% feel they are bombarded by marketing messages. When asked if they would like to receive fewer marketing messages in 2023 versus 2022, 73% noted they wanted less. 
The message to marketers is "Give us a break" or "Less is more." Pick yours.
Cold marketing emails? Cold consumer shoulder!
Only 9% of respondents open more than 75% of marketing emails. Plus, more than 50% of respondents open fewer than one in four. In addition, about eight in ten (79%) noted that they receive marketing emails from brands they have "no recollection of signing up for." That last one happens to us all the time.
What would make them open brands' marketing messages? In one word: relevancy. Sixty-two percent of respondents (62%) say "relevancy" is the number one factor in opening an email, followed by "identity of the brand" (14%), "personalized to me beyond my name" (8%), and "catchy subject line" (5%). We should note that 11% of respondents will never open marketing emails.
Consumers start on a predetermined shopping destiny
Marketers need to know the specific journey a customer is on, and marketers need to be part of it. But consumers are not 100% predestined. Each is willing to try new brands/products on occasion. For marketers, finding those occasions means connecting with the consumer to understand preferences and make relevant offers.
Relevancy is the most relevant
Almost three-fourths of respondents (72%) said that the relevancy of an offer is important, with 36% saying it is "extremely" or "very important." In addition, 67% of respondents noted that personalization is important.
Marketers who reach consumers with a personalized, relevant offer increase the odds of a sale. But most of all, it increases the likelihood of a loyal customer.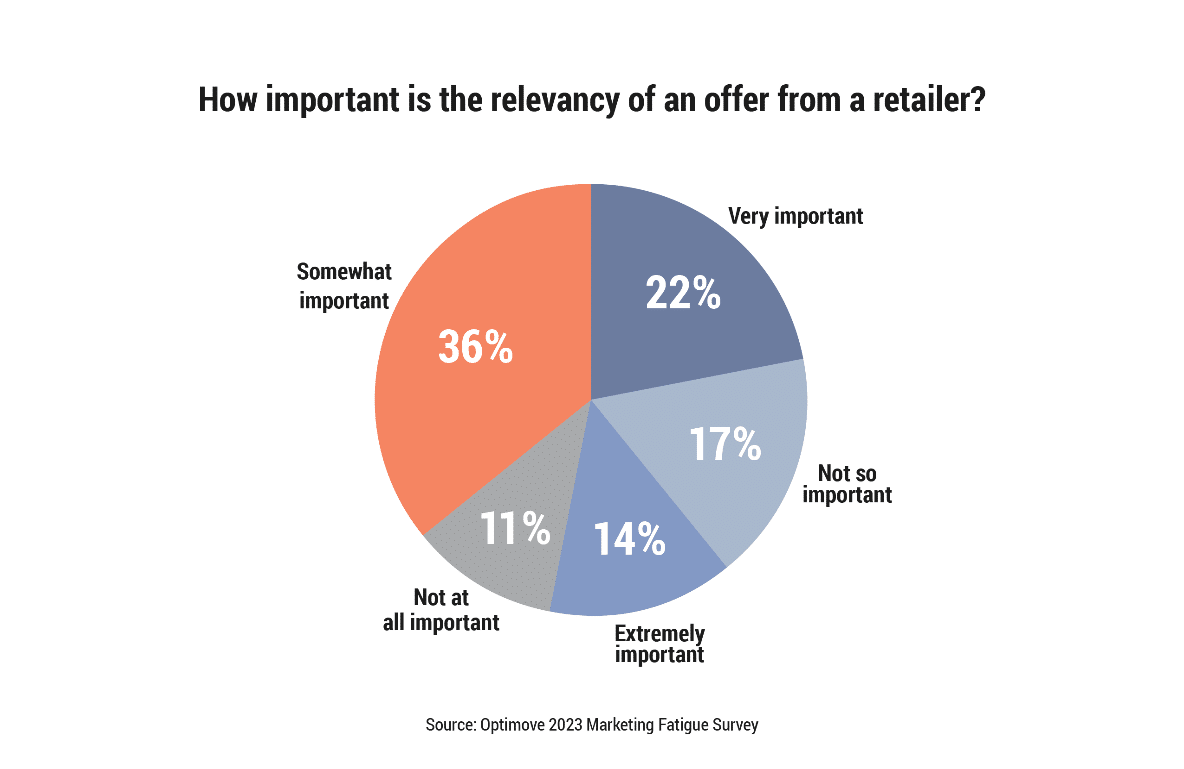 What can marketers do to avoid consumer exhaustion?
Relevancy is crucial in the time and place marketers reach consumers. And the critical components of relevancy are:
Knowing the customer's likes and dislikes.
Knowing when customers need something and offering it to them in their preferred way.
Being there to help, not hassle.
Personalization in every marketing action is also key. Rather than blasting marketing campaigns based on rules, effective next-best-action marketing is based on each customer's actions and feedback. This way, all promotions stay relevant to the customer. It is personalization at scale, meeting the customer with the right product/promotion in the right channel at the right time. 
Online marketing's ability to mimic a great salesperson who understands what to say and when (and when to give some space) is in its infancy. But with AI and deep customer data, marketers can go a long way to helping, not hassling consumers with messages.
It means putting each customer first, so marketing starts with the customer – their needs and desires. Great brands, like great salespeople, learn about each customer through their actions.  
More results? Download the full report.